Blu-ray Review: 'Lady and the Tramp' (Diamond Edition)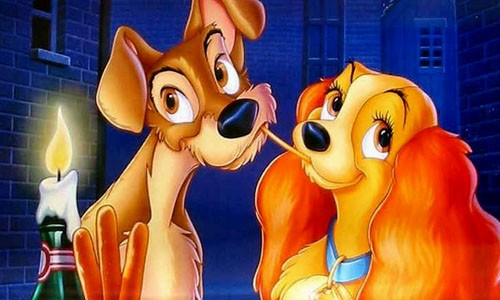 Two dogs.  One spaghetti strand.  A kiss.  So goes the iconic scene of two hounds from opposite sides of the tracks in the Disney classic "Lady and the Tramp", hitting Diamond Edition Blu-ray this week from Walt Disney Home Entertainment.  Follow the furry paw prints below.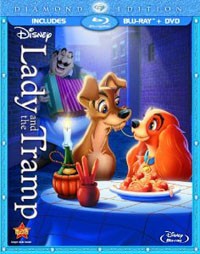 Title: "Lady and the Tramp" (Diamond Edition)
Grade: 5
Cast: Barbara Luddy, Larry Roberts, Peggy Lee
Director: Clyde Geronimi, Wilfred Jackson, Hamilton Luske
Rating: G
Runtime: 76 minutes
Release Company: Walt Disney Home Entertainment
Website: www.DisneyBluray.com
The Flick: By far my favorite of the Disney films, the original artwork mixed with Blu-ray makes for a glorious animated finish.  Simple story – bad boy, good girl – but made memorable via great characters and even better voices.  (Larry Roberts makes a tasty tramp!)  Filled with legendary songs (the soothing sounds of Peggy Lee hit the spot!) and scenes (does it get anymore romantic the Italian dinner scene?!), "Lady and the Tramp" has earned its classic status.
Best Feature: 'Diane Disney Miller – Remembering Dad' is a fascinating and revealing look at the man behind the curtain via Walt Disney's daughter Diane.
Best Hidden Gem: The Siamese cats (check out their doc 'The Siamese Cats Song: Finding a Voice') almost steal the show!
Worth the Moola: Lady and the Tramp and Blu-ray – like spaghetti and meatballs.