Blu-ray Review: 'Jurassic Park Ultimate Trilogy' Five-Star Set Roars Cool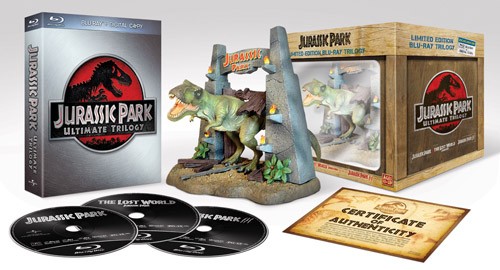 Ready for a walk down a bumpy and biting dino memory lane?  Then hop on the tram, strap in and get ready for the Blu-ray ride of your life with the arrival of the new "Jurassic Park Ultimate Trilogy" out Oct. 25 on glorious Blu-ray from Universal Home Entertainment.  Chocked with all three films in the series, a cavalcade of extras and enough bells and whistles to excite any dino fan on Christmas morning (yeah, it makes a killer gift!), this set seems to have it all – let's inspect!
THE PACKAGING
Sporting the tyran-logo made famous by the original on the front, the set is housed in a case that's got personality to spare.  Behind each of the three discs that contain each of the flicks (and its five hundred extras!) is a gorgeous collage of pics from each respective film.  Plus for the true Jurassic fan there's the out-of-this-world "Limited Edition Gift Set" that comes in a dino-converting box and even has a custom T-rex statue and Certificate of Authenticity. (So, so Cool!)  Either way they both look damn good on the shelf!  (Or at least mine does!)
THE PICTURE AND SOUND
Holy molly – if there was ever a set that got better with crisp picture and sound, it's this one.  With even more detail in the images (you can see the skin surface on every damn dino!) and clear sound that gives a new experience from the dinos themselves (that raptor noise seriously disturbs!) to the other sounds they make (the potent impact tremors gives all new chills!), these films were BORN for Blu-ray! 
THE DISCS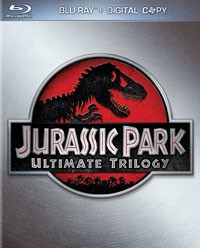 Title: "Jurassic Park" (Blu-ray)
Grade: 5
Cast: Sam Neill, Laura Dern, Jeff Goldblum
Director: Steven Spielberg
Rating: PG-13
Runtime: 127 minutes
The Flick: What's not to like about "Jurassic Park?"  Spielberg has constructed a flick that counter attacks every bad scenario and makes the thing almost totally critic proof.  Some characters within too saccharin sweet – enter the sass of Jeff Goldblum.  Tour to timid – nothing says dark like lamb on a rope.  The film manages to cater to both the popcorn crowd (run from the terror!) and those with a more refined taste (Sir Richard Attenborough anyone?!) – it's a five-star experience that could only come from those who like to play make believe with big budgets.  
Best Feature: Definitely the new 'Return to Jurassic Park' (a set of three here!), some very comprehensive featurettes that show everything from Spielberg on set making duck calls in place of a real raptor noise to the actors looking into the cage (funny as hell!) to a rather sad and somber realization by all folks involved of how much old school practical and puppet effects were becoming obsolete to groundbreaking CGI.
Best Hidden Gem: Any flick that has Newman ("Seinfeld's" Wayne Knight!) as one of the geek masterminds behind the computers of "Jurassic Park" deserves to take a bow!
Worth the Moola: For the film alone – but tag on some twenty plus features and I'm ready to have Universal's baby!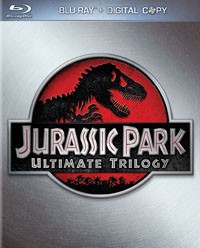 Title: "The Lost World: Jurassic Park" (Blu-ray)
Grade: 5
Cast: Jeff Goldblum, Julianne Moore, Vince Vaughn
Director: Steven Spielberg
Rating: PG-13
Runtime: 129 minutes
The Flick: A much darker version than the first film, with Goldblum back as the lead this time around.  His Ian Malcolm still pulls out the clever quips, though now with a distinct sense of dread and despair that keeps it interesting.  To help maintain freshness Spielberg throws in a little Julianne Moore and early Vince Vaughn action, but it's actually the captivating Pete Postlethwaite that ends up stealing the show as a hunter determined to take down the T-rex – Pete's the man.
Best Feature: Again, the revealing two sections of 'Return To Jurassic Park' and hearing candid stories from the likes of Fargo heavy Peter Stormare (Spielberg while watching Postlethwaite told Stormare, "One day you're gonna be as great as him!") to original Jurassic kid star Joseph Mazzello (he considers his cameo in the second film a Spielberg Grad present – since it paid for his college tuition!) – great featurettes!
Best Hidden Gem: More Postlethwaite in full ass-kicking tough guy mode via the 'Deleted Scenes' – don't mess with a man with an accent and an attitude!
Worth the Moola: The Blu-ray and extras do kick this one up to a full five-star buy – second time around looks better and better!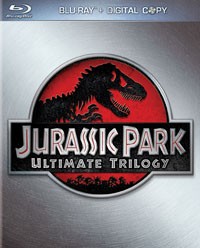 Title: "Jurassic Park III" (Blu-ray)
Grade: 5
Cast: Sam Neill, William H. Macy, Tea Leoni
Director: Joe Johnson
Rating: PG-13
Runtime: 93 minutes
The Flick: Watching this one again, I was struck by not only how many cool new dinos there were (go spinosaurus!), but also how effective the human characters within the story does work to keep things interesting.  Not only do we get more stoic Sam Neill, but some new quirky William H. Macy, goofy Tea Leoni and even memorable Michael Jeter to top it off.  And all their interplay with each other only serves to compliment the massive amount of creative new monsters that in the end gives this third helping some cinematic movie monsters worth checking out. 
Best Feature: Can't stop a good thing as the sixth and final 'Return to Jurassic Park' segment about the third film talks legacy (they could hear the music from the Universal "Jurassic Park" ride while shooting!) and even candidly about production problems (five weeks away from shooting Director Johnson threw out the script and started anew!) – fine featurette work folks!
Best Hidden Gem: The featurette entitled 'Tour of Stan Winston Studio' is less a standard peak, as it is a loving musical collage of the world the late great one built.  At the end of it, Winston looks at two of his larger then life dinos and proclaims, "They're mine!" – they are indeed sir.
Worth the Moola: As not only part of the trilogy set, but even as an outing that ups the ante in the extinct monster region, a worthy five-star addition to the overall ambiance.
__________________________________________________________________________________________________________________________________________________________________________________
So I say don't walk, but RUN (as fast as you can – and drop the flare!) and get this one!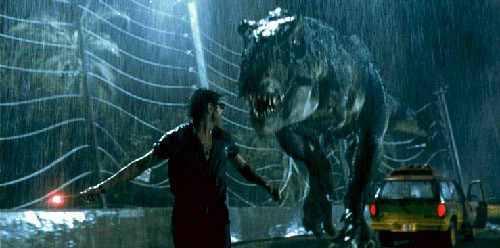 BTW – Coolest swag so far this year was this awesome pre-release box below that was sent on ice and contained a very large and tasty milk chocolate 'Dinosaur Egg' that was also filled with six baby dinos!  Universal has got class man!