Blu-ray Review: 'Jiro Dreams Of Sushi'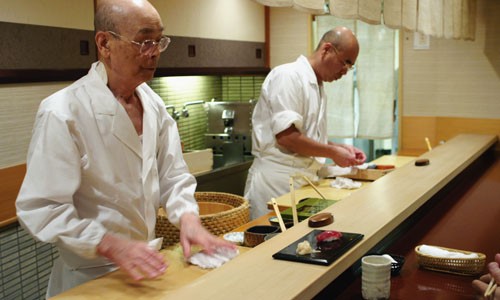 Making sushi...at eighty-five?!  So is the life of master craftsman Jiro Ono, the subject of the new to Blu-ray documentary "Jiro Deams of Sushi," out now from Magnolia Home Entertainment.  Review the menu of opinion below!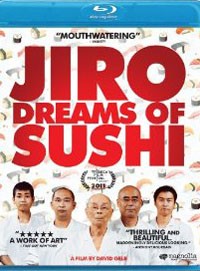 Title: "Jiro Dreams of Sushi"
   Grade: 5
   Director: David Gelb
   Rating: PG
   Runtime: 82 minutes
   Release Company: Magnolia Home Entertainment
   Website: www.magpictures.com
The Flick: As a documentary, "Jiro Dreams of Sushi" succeeds on two very different but equally mesmerizing levels.  The first is in the workings of creating some of the most famous and mush desired sushi dishes known to make.  Going from fish and rice selections, to food preparation and the eventual delivery in all its showmanship, Director David Gelb creates a lush and luxurious picture of why a little sushi-only restaurant in a train station has endured over many years.  The second is the examination of the life and philosophies of 85-year-old owner Jiro Ono himself, a man who prides himself on never resting on laurels, continual mastering and desire to be the best – no matter what the cost.  It makes for a five-star doc that is comes in a close second to actually visiting the Tokyo sushi shop itself – a compliment indeed. 
Best Feature: There is an insightful Commentary, more info via Deleted Scenes, but I have to say the simple yet elegant 'Sushi Gallery' truly provides fans that can't fly to Tokyo an appetizing outlet.
Best Hidden Gem: The rare glimpse into the childhood background of Jiro does explain a lot about the man.
Worth the Moola: A rare doc combo of fine food and rich personality – both tasty as can be.