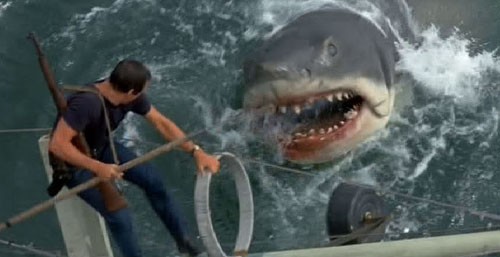 Will a shark be scarier in...Hi-Def?  We're gonna find out with this week's anticipated release of the classic Steven Spielberg fish tale "Jaws," out in an extras heavy Blu-ray from Universal Studios Home Entertainment.  See if they're gonna need a bigger Blu-ray case below!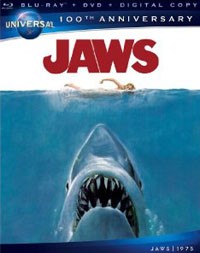 Title: "Jaws"
   Grade: 5
   Cast: Roy Scheider, Richard Dreyfuss, Robert Shaw
   Director: Steven Spielberg
   Rating: PG
   Runtime: 124 minutes
   Release Company: Universal Studios Home Entertainment
   Website: www.UniversalHiDef.com
The Flick: Of course, anyone who says that "Jaws" is not a five-star piece of filmmaking is lying their ass off.  As both a fantastic exercise in horror anticipation and an equally compelling character study, Spielberg proves that he is indeed a master storyteller on every level.  Plus you'll never find a better ensemble cast then a thoughtful Roy Scheider, chatty Richard Dreyfuss and surly Robert Shaw – all provide the three very different points of this stellar film tripod.  Oh yeah and Bruce, that old mechanical great white, still looks convincing after all these years!  Take that CGI!    
Best Feature: Hard pressed to pick just one, this phenomenal set will be every "Jaws" fans fantasy.  But the most recent doc titled 'The Shark is Still Working' is one massive, comprehensive and damn fine feature that explores every last untapped morsel!  (Highlights – hearing about how Spielberg lost it when they destroyed the Orca that was on the Universal lot, seeing footage of legendary editor Verna Fields at work and hearing Greg Nicotero's love for the flick!)
Best Hidden Gem: That the above monster doc was narrated by the late great Roy Scheider.
Worth the Moola: Every penny!  Taking a top notch film and providing enough extras to choke even a wide mouthed great white it cool enough, but seeing "Jaws" in a gorgeous Blu-ray format and have the mechanical shark till hold up visually takes talent.  Bruce still got game!