Blu-ray Review: 'Iron Man 3'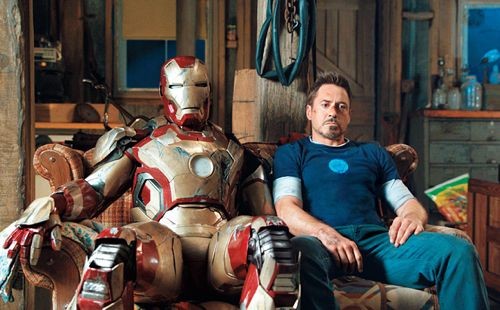 Can Tony Stark be a superhero without his armor?  We'll find out as we check out the new to Blu-ray release of "Iron Man 3" out now from Walt Disney Home Entertainment.  We examine and review a man without his suit below!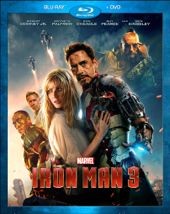 Title: "Iron Man 3"
   Grade: 3
   Cast: Robert Downey Jr., Gwyneth Paltrow, Guy Pearce
   Director: Shane Black
   Rating: PG-13
   Runtime: 130 minutes
   Release Company: Walt Disney Home Entertainment
   Website: http://marvel.com/ironman3
The Flick: With famed scribe Shane Black helming this outing there's both good and bad in the world of Iron Man.  On the good side there's the obvious screenwriting and dialogue prowess of Black, not to mention his influence over the work of former "Kiss Kiss Bang Bang" star Downey.  (The certainly bring out the best in each other!)  On the bad side is a story with way to many subplots, a villain that goes from engaging to goofy (and it's frankly not funny!) and Downey spends way too much time outside the suit to be fun.  Black is a helmsman of crisp on-screen wit and action, but lore and mythology aren't exactly his string suit.  As a result, "Iron Man 3" feels more like an arranged marriage – it's awkward but bearable. 
Best Feature: While the dissection of the Air Force One featurette does show how amazing the special effects and stuntmen are, my vote is the tasty short 'Marvel One-Shot: Agent Carter' that sees "Captain America" gal Hayley Atwell kicking some serious ass!  (Avoid the Commentary like the plague as the normally informative and interesting Shane Black is constantly overrun by highly annoying and unfunny co-writer Drew Pearce!)
Best Hidden Gem: Click on the special symbol on the main page for some further fun 'Jarvis Second Screen' fun!
Worth the Moola: A superhero flick where the lead feels more comfortable and engaging outside the suit, this is more like The Continuing Adventures of Tony Stark.