Blu-ray Review: 'In Fear'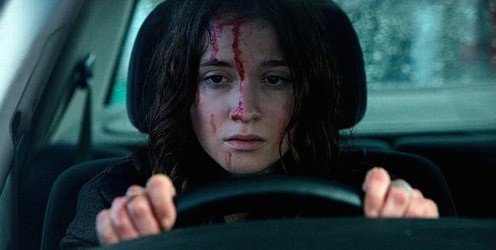 What scares you?  If it's being car crazy then follow us as we check out the new to Blu-ray horror outing "In Fear" out now from Anchor Bay Home Entertainment.  We stay in the car and review below!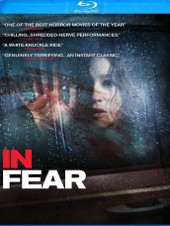 Title: "In Fear"
   Grade: 2 1/2
   Cast: Iain De Caestecker, Alice Englert, Allen Leech
   Director: Jeremy Lovering
   Rating: R
   Runtime: 85 minutes
   Release Company: Anchor Bay Home Entertainment
   Website: www.anchorbayent.com
The Flick: I have to give serious kudos to the premise of "In Fear," namely a couple being terrorized by unknown people and elements.  In a world of serious blood and gore it's nice to see a flick still trying for the psychological scares.  Problem with "In Fear" is the film gets off on the right foot, but things just get incredibly tedious and dull (especially driving in what seems like a circle forever!) and the terror starts to fade.  The leads are decent (especially emotionally frail Alice Englert) and the direction good, but again this creepy coffee needed more sugar to rise above being an average cup of joe.
Best Feature: The single 'Behind the Scenes' featurette reveals that there was no actual script per say.  Good news for the naturalism in the performances, but bad news for the story and scares.
Best Hidden Gem: Eerie stranger Allen Leech plays all sides of his mysterious character with equal joy and malice.
Worth the Moola: A good set up and some scares brought down by monotony – so-so.