Blu-ray Review: 'I Love You Philip Morris'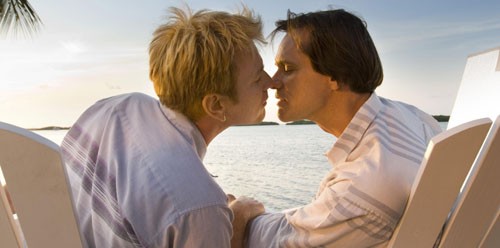 Continuing the love of all things Blu-ray (we're purists!), here is a review of the recently released Jim Carrey/Ewan McGregor man-love comedy fest "I Love You Philip Morris."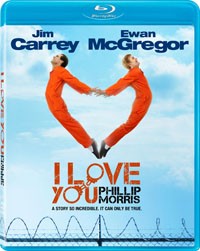 Title: "I Love You Philip Morris"
   Grade: 4
   Cast: Jim Carrey, Ewan McGregor, Leslie Mann
   Director: John Requa & Glenn Ficarra
   Rating: R
   Runtime: 98 minutes
   Release Company: Lionsgate
   Website: www.lionsgatebluray.com 
The Flick: Right off the bat you can tell that this film was written by the guys who wrote the vile and hilarious Terry Zwigoff flick "Bad Santa."  Both are brutally revealing, totally foul-mouthed and funny as hell.  Now in the director's seat as well, John Requa & Glenn Ficarra are a perfect fit for this story of a gay conman who becomes obsessed with a sensitive fellow inmate.  What's really funny is amidst all the wit, slapstick and outrageously flamboyant humor, there's also a really touching love story as well.  Carrey as the fast talking scammer is fine, but it's actually Philip Morris himself Ewan McGregor that turns in a flawless performance.  Love, humor and a pinch of man love. 
Best Feature: Loved the Making-of with a ton of extra Carrey clowning and goofing around on-set between takes.  (Why don't you just stop fighting it and do another damn Ace Ventura for the love of allll…righty then!!)
Best Hidden Gem: Love the visual effect of changing a soft, floating, and billowy cloud into a phallic symbol – pure comedy gold.
Worth the Moola: Don't know if you want to see some of the more intimate scenes in pristine picture and sound (or maybe you do – not that there's anything wrong with that!), but the comedy and performances will pop on this or a DVD format – the flick itself is a must see.