Blu-Ray Review: 'I Am Number Four'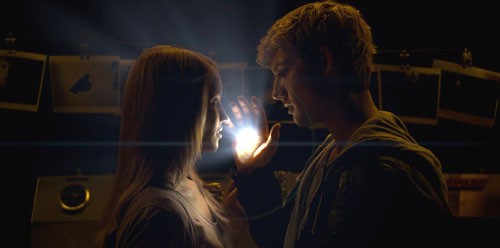 We've been infatuated with cinematic numbers since back in the days of Patrick McGoohan's "The Prisoner" and Number Six.  (Who is number One?!)  So why not take a peak at the latest number titled outerworld outing from "Disturbia" helmer D.J. Caruso entitled "I Am Number Four," which hits shelves on May 24 from DreamWorks.  Check out the review and Blu-ray extras peek below.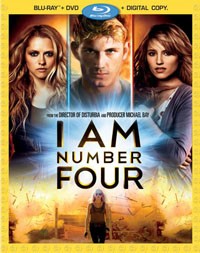 Title: "I Am Number Four"
   Grade: 3
   Cast: Alex Pettyfer, Timothy Olyphant, Teresa Palmer
   Director: D.J. Caruso
   Rating: PG-13
   Runtime: 109 minutes
   Release Company: DreamWorks
   Website: http://findnumberfour.com/#/home
The Flick: A rather ho-hum familiar story of an alien passing for a high school boy who is trying to both fit in and hide from bad guys is strongly elevated by the solid direction by D.J. Caruso.  What's most amusing is that all elements within, both good and bad, even each other out for an average entertaining flick.  Meaning while lead Alex Pettyfer is a forgettable and standard good-looking "Dawson's Creek" wannabe, fortunately his handler is played by the highly memorable Timothy Olyphant.  And with lead gal in love Dianna Agron having the presence of a cactus, at least ass-kicking hottie Teresa Palmer enters to save the day.  But the major flaw of the film was the overall absence of Number Six herself Palmer, who has a few sporadic early scenes (her intro is explosive!) but only shows up in the last twenty-five percent of the film.  I'm all for good sequels, but not using a great character to simply set up future films that may or may not happen – consider me number not happy. (Send More Palmer!)     
Best Feature: Deleted Scenes for the omitted sequence where Olyphant meets the mom of a former colleague played by Karen "Marion Ravenwood" Allen, who finally makes up for the atrocious smiley-faced work in the last Indy flick and creates a tough mom – good to have you back!  
Best Hidden Gem: The doc I Am Number Six, which focuses solely on Palmer, her character and the work she did to prepare for the role – more Palmer is good!
Worth the Moola: It's a rental first and foremost, with some decent direction, charismatic Olyphant and a glimpse at a new tough woman warrior that steals the show – six is my new favorite number!