Blu-ray Review: 'House Of The Rising Sun'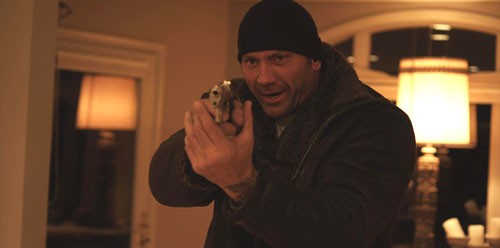 What could be more big and bawdy in an action film then the very large Dave Bautista?  How about some bad guy via Dominic "Prison Break" Purcell, corrupt cool criminal from Danny "Machete" Trejo and hotness ala Amy "Crank" Smart!  We're checking out the new to Blu-ray "House of the Rising Sun" out now from Lionsgate.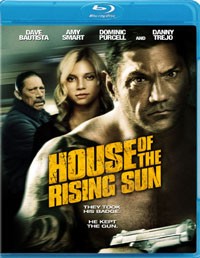 Title: "House of the Rising Sun"
   Grade: 1/2
   Cast: Dave Bautista, Amy Smart, Dominic Purcell, Danny Trejo
   Director: Brian A. Miller
   Rating: R
   Runtime: 88 minutes
   Release Company: Lionsgate
   Website: www.lionsgatedvd.com  
The Flick: Remember a little flick back in 1991 called "The Perfect Weapon" that tried to catapult sad and emotionless Jean Claude Van Damme wannabe Jeff Speakman to stardom – "House of the Rising Sun" lead Dave "bulky" Bautista makes Speakman look like Brando.  A former pro-wrestler (no wonder!) Bautista, who has the charisma of a gnat, hulks his way through every dull and boring scene House has to offer and it's not a pretty picture. (Even the songs, which harp on a single rap lyric like "Welcome to my Chamber", are uber-annoying!)  In fact the only decent thing in this stereotypical "man-clearing-his-name" cheese fest are the small bits of cool from the all but wasted supporting cast that includes Dominic Purcell, Danny Trejo (who is only in two scenes!) and sexy Amy Smart.  But even the luscious blond locks of the fetching "Crank" femme fatal can't make the bumbling Bautista and his run down House worth looking at. 
Best Feature: Surprisingly the commentary with a low-key Bautista and info heavy director Brian A. Miller is not as horrible as the flick they're chatting about.
Best Hidden Gem: During the Making-of when Director Miller says something about the story having so much tension that "there could be a major payoff in the end" – wishful thinking bro! 
Worth the Moola: Even if this was at the bottom of an empty bargain bin for .50 Blu-rays, you're still gonna feel ripped off.