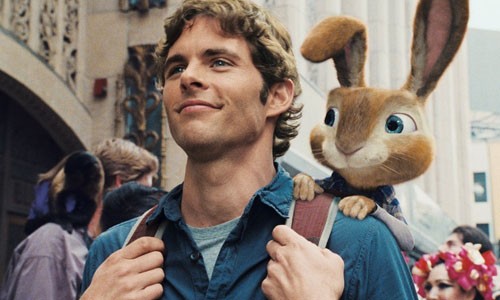 Can a film really sustain feature length about...the Easter bunny?  We're gonna find out with our Blu-ray review of the new flick "Hop," out now from Universal Home Entertainment.  Follow the colored review eggs below!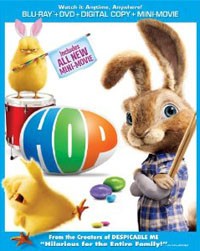 Title: "Hop"
   Grade: 3 1/2
   Cast: James Marsden, Russell Brand, Gary Cole
   Director: Tim Hill
   Rating: PG
   Runtime: 96 minutes
   Release Company: Universal Home Entertainment
   Website: www.HopMovie.com
The Flick: "Hop" definitely seems designed for kids, but I was surprised at how engaging it still was for adults.  On the tot side there's a ton of memorable animated characters (Hank Azaria hits it out of the park as conniving yellow chicks Carlos and Phil!) and enough Easter fun to hold attention.  (Even I was impressed by the amazingly colorful Easter factory!)  But on the old folks side there's a pleasantly surprising and engaging Russell Brand as the voice of the lead rabbit (I'm not a fan and I dug it!) and even some funny David Hasselhoff self-parody action to boot.  I'm not saying the film is flawless (the story is a tad on the sappy side – father/son issues abound!), but for an evening with the fam, "Hop" hits just the right height for everyone.  
Best Feature: Loved 'Russell Brand on being the Bunny' Featurette, where we hear from Brand who is talking out of a bobble head style pic of himself – kids and adults even here.
Best Hidden Gem: Always love seeing Gary "Lumbergh" Cole here playing a flawed father.
Worth the Moola: Again something for everyone – a rare thing when it comes to kid flicks.