Blu-ray Review: 'Hoodwinked Too! Hood Vs. Evil'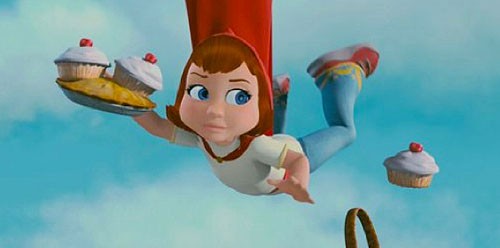 Ready for a second high-flying helping of Red, Granny, Wolf and that damn scene-stealing goat?  Then hold on to your basket of goodies and head back to grandma's house – we're checking out the Blu-ray release of "Hoodwinked Too! Hood Vs. Evil" out August 16 from Anchor Bay Entertainment and The Weinstein Company!  Happily ever after agency specs below!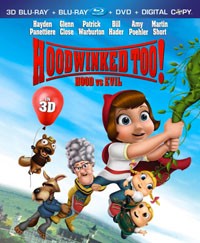 Title: "Hoodwinked Too! Hood vs. Evil"
   Grade: 3 1/2
   Cast: Voices of Hayden Panettiere, Glenn Close, Patrick Warburton
   Director: Mike Disa
   Rating: PG
   Runtime: 87 minutes
   Release Company: Anchor Bay Entertainment
   Website: www.anchorbayent.com  
The Flick: While most certainly not as witty or well written as the first film, it's the continued stellar cast of characters that keeps the hood hand strong for this second outing.  Back are sassy Red (love her bridge fight with David Alan Grier's troll!), Granny, Patrick Warburton's whacked wolf, Twitchy (keep drinking that coffee!) and that damn singing goat!  Notable newbies include Joan Cusack as the deranged witch, some Wayne Newton Jimmy the harp action and even a little Cheech & Chong for the older audience!  Again can't recall the story, but love the way it was executed. (Especially in format must 3D for those who have the capability – goat gets it right in your face!) 
Best Feature: 'The Voices of Hoodwinked Too!' featurette interviews, footage and even cool and candid character readings from the likes of Hayden Panettiere, the Warburton and even some Newton!
Best Hidden Gem: The 'Storyboard Sequences' are like conceptual art come to life – very tasty.
Worth the Moola: For fans of the first, keep the 3D Blu-ray goat songs going!  (And watch out for impending doom!)