Blu-ray Review: 'High School'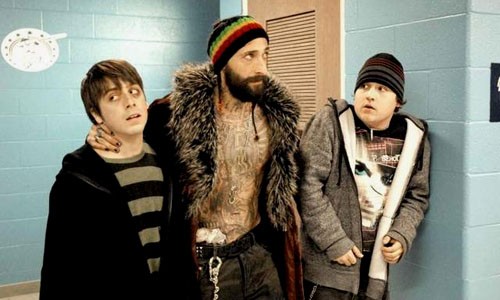 Think "Up in Smoke" and "Half Baked"...for the teen scene.  Such is the scenario for our young friends in the film "High School," out on DVD/Blu-ray from Anchor Bay Home Entertainment.  The rolled review can be experienced below.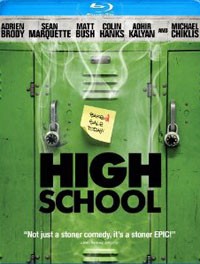 Title: "High School"
   Grade: 3
   Cast: Sean Marquette, Matt Bush, Michael Chiklis
   Director: John Stalberg, Jr.
   Rating: R
   Runtime: 100 minutes
   Release Company: Anchor Bay Home Entertainment
   Website: www.anchorbayent.com
The Flick: A clever but seemingly familiar tale of weed, teen angst and the need to belong.  (And not necessarily in that order!)  What does stand out about "High School" is the highly energized and diverse cast playing heavily against type within.  Michael "The Shield" Chiklis as hair-piece sporting doofus Principal Gordon, Mykelti Williamson as a stoner dude named Paranoid and especially the crazed and inspired work by Adrien Brody as insane pot grower Psycho Ed all make the colors of this pot movie rainbow a little greener.  Enough laughs (and coughs!) to make this one a good trip...to the movies.
Best Feature: The 'Deleted Scenes' add even more sleazy Chiklis and demented Brody that hit the cutting room floor.  (These guys are good!)
Best Hidden Gem: Again out of nowhere, Brody almost steals the whole movie out from underneath everyone with his manic performance.
Worth the Moola: Colorful characters, funny moments and good weed – it's a cinematic pot brownie that goes down good even without a cold glass of milk.