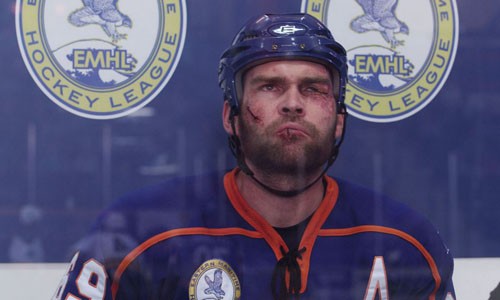 Old time hockey with fast skating, fast scoring and fast fists.  Seann William Scott takes on everyone within punching distance in the new hockey themed flick "Goon," out now on Blu-ray from the great folks over at Magnet/Magnolia Home Entertainment.  Head for the penalty box below!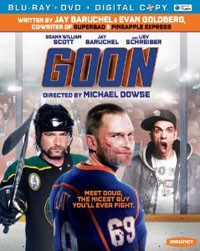 Title: "Goon"
   Grade: 4 1/2
   Cast: Seann William Scott, Jay Baruchel, Liev Schreiber
   Director: Michael Dowse
   Rating: R
   Runtime: 91 minutes
   Release Company: Magnolia Home Entertainment
   Website: www.magpictures.com
The Flick: The ads for "Goon" don't give the surprisingly layered flick the credit is so clearly deserves.  Yes, the meat of the film is the tale of hulking former bouncer turned hockey player Seann William Scott hired solely to add fists to the game, but "Goon" (and Scott!) has so much more to offer.  Some creative comedy (Scott's fellow teammates, especially goalie Jonathan Cherry, almost steal the show!), decent drama (Liev Schreiber provides the perfect foil for Scott!) and even some sweet "Rocky"-esk romance (courtesy of the fabulous Alison Pill!) help make "Goon" much more than simply a "Slap Shot" rip-off.  And at the center of the action, Scott provides in spades the very thing that makes "Goon" a standout – heart.
Best Feature: The featurette 'Goalie Audition,' which provides even more hilarious Jonathan Cherry moments of sheer brilliance – we're on the same team!
Best Hidden Gem: Alison Pill, an unconventional choice, is wonderfully natural and lovable as the apprehensive gal pal of Scott.
Worth the Moola: "Slap Shot" set the bar high for any hockey film to fill – meet its successor.