Blu-ray Review: 'Ghosts Of The Abyss 3D'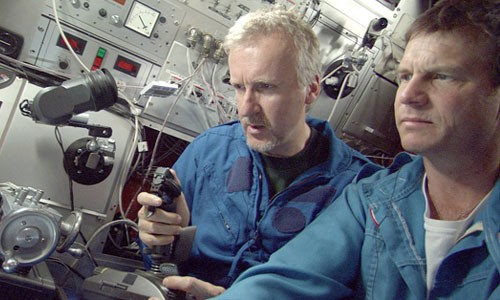 Ready to head back to the Titanic with Jim Cameron and an apprehensive Bill Paxton?  We're checking out the new to Blu-ray adventure "Ghosts of the Abyss 3D" out this week from Walt Disney Home Entertainment.  The vessel and review submerge below!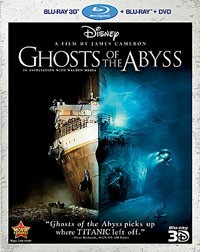 Title: "Ghosts of the Abyss 3D"
   Grade: 4
   Cast: James Cameron, Bill Paxton
   Director: James Cameron
   Rating: G
   Runtime: 60 minutes
   Release Company: Walt Disney Home Entertainment
   Website: www.DisneyBluray3D.com
The Flick: There are a lot of things to like about James Cameron's return to the Titanic.  His eye for craftsmanship as both a historian and picture stylist clearly make this trip down to the famed wreck more then another Disneyland ride.  Cameron shows the actual ship remains in fully lit detail, but also at times superimposes the ship and passengers in their former glory to truly give a visual rendition of what is being seen.  It's a technique that, especially in the glorious 3D format (or at least those who can afford it in their home!), kicks the crap out of those old National Geographic specials and brings this kind of program into the year 2000 and to life.  There's also a bit of cheese via actor Bill Paxton along for the ride as the nervous nellie of sorts, but it's a small side note to one impressive doc that holds attention.  (Plus the 90 minute extended version just adds more layers – it should be the version of choice to watch!)
Best Feature: The doc 'Reflections from the Deep' goes into much more detail for the inquisitive fan about everything from Paxton in actual worried mode (should have used this real footage!) to the effect of 9/11 during the dive – almost better then the doc itself.
Best Hidden Gem: The featurette 'Cheese Sandwich Prank,' which I'm not sure is real or not, shows a complaining Cameron whining about the fact that he always gets two cheese sandwiches with heavy butter for lunch.  Fake or not, it's good to see him humbled!
Worth the Moola: This is what those exploration docs of the past should have been and then maybe most of us would have watched them without being forced – good show Jim!