Blu-ray Review: 'Game Of Thrones - The Complete Third Season'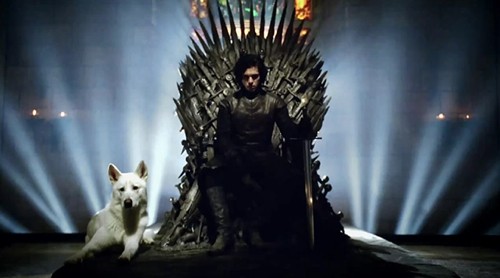 Review by H.E. Coleman
Ready for a third medieval outing?  Then follow us as we check out the new to Blu-ray "Game of Thrones – The Complete Third Season" out now from HBO Home Entertainment.  Season three gets reviewed below!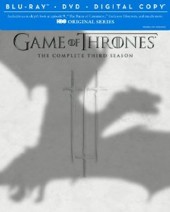 Title: "Game of Thrones – The Complete Third Season"
   Grade: 5
   Cast: Peter Dinklage, Nikolaj Coster Waldau, Lena Headey
   Director: Various
   Rating: Not Rated
   Runtime: 555 minutes
   Release Company: HBO Home Entertainment
   Website: www.hbo.com
Review by H.E. Coleman: Overview: This third installment of "Game of Thrones" continues the epic saga of the battle for the Iron Throne of Westeros.  The stakes are rising this time around with the Lannisters preparing for war against Stannis Baratheon, Robb Stark finding out it's not always good to be King (of the North), the Khaleesi's army growing as fast as her dragons, White Walkers forcing the Wildlings into conflict against the Night's Watch, and Catelyn Stark's kids running rampant with the worst possible babysitters the Seven Kingdoms have to offer.  Game of Thrones is famous for gripping plotlines, memorable characters, and breathtaking cinematography, but if anything Season Three surpasses the high standards set by the first two seasons.
Best Episode: Anyone would risk having their throat slit if they didn't list episode 9 ("The Rains of Castamere") as the best one of the season.  Known to fans as "The Red Wedding Episode", this show not only shocks viewers with multiple dramatic twists and turns, but in a series known for phenomenal acting Episode 9 manages to produce scenes that stand out as absolutely mesmerizing.  Try to look away from the actual wedding for even a second - it can't be done.
Best Feature: With so many amazing bonus features choosing a favorite is hard to do, but a top drool contender is the audio commentary, featuring lead actors, writers, directors, producers, production and costume designers, stunt and weapons coordinators, and even George R. R. Martin himself - legendary writer of the books on which the series is based.
Worth The Moola: Does Hodor say "Hodor"?  The show alone is worth viewing multiple times, but the quantity and quality of the slick bonus features added make this Blu-ray set one worth fighting for.