Blu-ray Review: 'From Prada To Nada'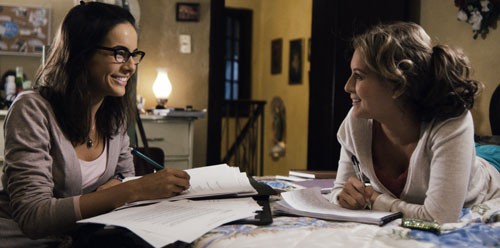 Rags to riches has always been a popular story device (didn't that lady Jane Austin write something about that?!), but we like a little flavor in our movie tale.  That's why we're taking a look at the Latin themed "From Prada To Nada" (hitting shelves May 3rd from Lionsgate) on Blu-ray, plus some of the rich and poor features it contains – check it out below!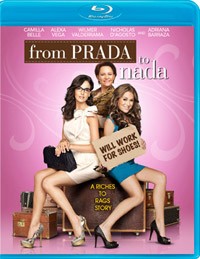 Title: "From Prada To Nada"
   Grade: 3 1/2
   Cast: Camilla Belle, Alexa Vega, Wilmer Valderrama
   Director: Angel Gracia
   Rating: PG-13
   Runtime: 106 minutes
   Release Company: Lionsgate
   Website: www.frompradatonadamovie.com
The Flick: Keeping the fish out of water done to death Jane Austen story "Sense & Sensibility" going could have been a bore fest if not for the very cool Latin spin of "From Prada To Nada" in both writing and direction.  Spoiled gals Camilla Belle and Alexa Vega do a decent job as two sisters who go from rags to riches, but it's actually their unlikely male suitors that end up stealing the show.  As a buttoned down lawyer infatuated with Belle, Nicholas D'Agosto shines with gusto in a role that could have been another walk through performance and Vega beau Wilmer Valderrama steps out from his geeky "That 70's Show" persona to create a very believable tough guy with a heart.  So while not groundbreaking, this cross-culture upgrade has more prada then nada – and it's worth the watch.  
Best Feature: The featurette where we learn that it took six years to get the project off the ground.  (Way to hang in there!)
Best Hidden Gem: The bloopers reel where we get to see D'Agosto's tomato eating problem.  (Aim for the mouth brother!)
Worth the Moola: While not necessarily a "must have" purchase product, this one isn't bargain basement material either – somewhere between prada and nada.