Blu-ray Review: 'From Beyond: Collector's Edition'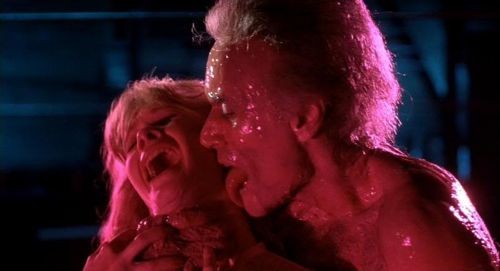 Ready to re-team with the "Re-Animator" group for some blood and gore galore?  Then check out our review of the new to Blu-ray flick "From Beyond: Collector's Edition" out now from Shout! Factory's horror division Scream Factory.  The review of the beyond is in the dimension below!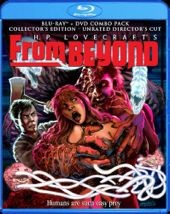 Title: "From Beyond: Collector's Edition"
   Grade: 3 1/2
   Cast: Jeffrey Combs, Barbara Crampton, Ken Foree
   Director: Stuart Gordon
   Rating: Unrated
   Runtime: 86 minutes
   Release Company: Shout! Factory Home Entertainment
   Website: www.shoutfactory.com
The Flick: I've always been on the fence about "From Beyond."  I loved seeing the "Re-Animator" gang of Barbara Crampton (in more ways than one!), Jeffrey Combs and Stuart Gordon back in the horror saddle.  But there was also a more pompous and somber tone to "From Beyond" that never allowed the best work to come from any of the above.  In fact the only comic relief of the piece is actor Ken Foree and even that wears thin quick.  There are some great effects via the twisted and deformed Ted Sorel (aka Dr. Edward Pretorious) and some more savory Crampton in S&M garb but this one just feels like a sequel that's not as good as the original.
Best Feature: Like the candid 'Interviews' with Combs, Crampton and Gordon who all come clean on how and why the film received such a lukewarm reception.  (Love that Combs and Crampton feel like they switched roles from Re-Animator!)  
Best Hidden Gem: Loved 'The Editing Room: Lost and Found' Featurette that explains the tale of how cool footage that Stuart wanted got lost and its glorious resurrection here.  (aka cool Combs carnage!)  Plus gotta love those colorful DVD/Blu-ray covers!
Worth the Moola: For those who have a cult fascination with this so-so "Re-Animator" follow up it could be worth a purchase.  For the rest, rental city feels not so beyond.