Blu-ray Review: 'Fright Night 3D'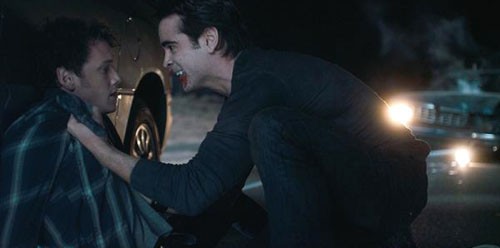 Do 3D effects still hold up at home?  We're about to find out by taking a look at the remake "Fright Night 3D," which hits Blu-ray on Dec. 13 from Dreamworks and Touchstone Home Video.  See if the fangs penetrate below!
   Title: "Fright Night 3D"
   Grade: 0
   Cast: Anton Yelchin, Colin Farrell, David Tennant
   Director: Craig Gillepsie
   Rating: R
   Runtime: 106 minutes
   Release Company: Touchstone Home Video
   Website: www.welcometofrightnight.com
The Flick: Let's forget that this is a remake of a film that is considered to be one of the finest horror movies of all time and simply review it based on its own merits.  As a stand alone outing, "Fright Night 3D" not only didn't scare me, but also had me a might confused.  As the films creature of the night, Colin Ferrell's vamp is less a seductive bloodsucker and more a mentally unstable serial killer.  He stares with a creepy gaze, harbors hidden rooms in his house where unsuspecting victims wait and even kills out in the open for all to see – not exactly the makings of a memorable cinematic vampire.  Not to mention that the only notable characters in the film, namely Superbad's Christopher Mintz-Plasse, is extinguished early on and mom Toni Collette is given little to do in terms of challenging material.  Plus as far as the 3D elements go, it's a gimmick that doesn't add anything extra even by accident. (The small screen doesn't help the plight here either!)  Lame scares, crappy kills and characters you don't care about – welcome to non-fright night.    
Best Feature: At least the 'Bloopers' section has a few laughs – all unintentional of course!
Best Hidden Gem: Seeing KNB EFX man Howard Berger for a few seconds talking gore in the 'Making-of' featurette.  (If you had given him his own section you might have gotten a star!) 
Worth the Moola: Ever wipe your rear with sandpaper because there was literally nothing else left – about the same feeling folks.  (Rent the damn Tom Holland original!)