Blu-ray Review: 'Freelancers'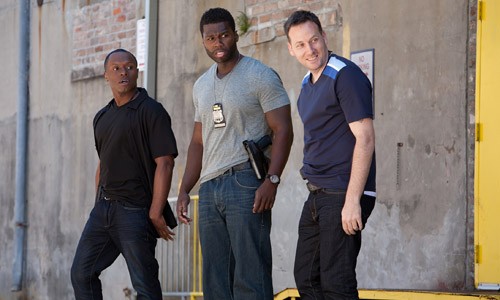 Childhood friends turned crooks turned cops – interesting.  We're checking out the new to Blu-ray action drama "Freelancers" available now from Lionsgate Home Entertainment.  Follow the review of justice being served below.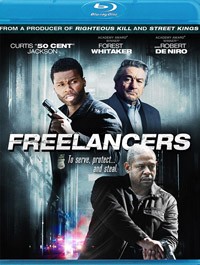 Title: "Freelancers"
   Grade: 3 1/2
   Cast: Curtis "50 Cent" Jackson, Forest Whitaker, Robert De Niro
   Director: Jessy Terrero
   Rating: R
   Runtime: 96 minutes
   Release Company: Lionsgate Home Entertainment
   Website: www.lionsgatebluray.com
The Flick: The last time I saw Curtis "50 Cent" Jackson (lose that name man!) in a flick I almost turned it off for bad acting.  Apparently Jackson got some lessons because he's decent here playing a cop on the edge out for a little payback.  In fact, the Blu-ray box mistakenly touts Forest Whitaker and Robert De Niro as the draws of this one, but it's the chemistry between childhood pals Jackson, Malcolm Goodwin and Ryan O'Nan that is the real draw.  Watching them go their different ways going from hoods to heat is like an interesting cross between "Colors" and "Training Day" - good storytelling.  The named leads do add some spice, but it's the equally savory story and supporting cast that make the choice of viewing this one an easy one.
Best Feature: Actually liked the 'Deleted Scenes,' which had some extended ones that explained some side story stuff and certainly would have added to the flick.
Best Hidden Gem: Loved the sexy and sassy Beau Garrett as a hard to get bartender – plus her chemistry with Jackson is pretty hot!
Worth the Moola: Don't let the lame B-movie box fool you - there's a well-acted and well-told story within.