Blu-ray Review: 'Frankenweenie"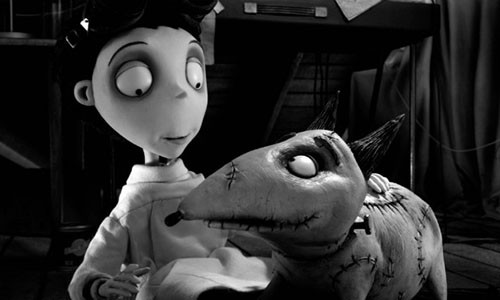 Ready to explore the classic Frankenstein tale through the eyes of Tim Burton?  Then check out our review of the new to Blu-ray stop motion flick "Frankenweenie," out now from Walt Disney Home Entertainment.  It's alive – the review that is – below!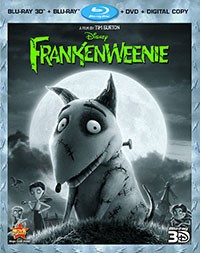 Title: "Frankenweenie"
   Grade: 3 1/2
   Cast: Voices of Martin Short, Catherine O'Hara, Winona Ryder
   Director: Tim Burton
   Rating: PG
   Runtime: 87 minutes
   Release Company: Walt Disney Home Entertainment
   Website: www.DisneyBluray3D.com
The Flick: "Frankenweenie" contains a strange mixture of wondrous and wacky that normally bodes well for Tim Burton.  But here using stop-motion animation instead of live action there's a palpable creepy factor that does take the kid flick aspect to a different level.  (Especially in 3D - rusty stitches come out at you!)  Not that the film isn't without charms of both clever (Martin Landau voiced Mr. Rzykruski is pure Burton!) and character (Martin Short never met a dull role he couldn't liven up!), but the more somber "Frankenweenie" feels like a short idea stretched and as a result the final act is a tad arduous to get through.  There are classic Burton bits (the girl and cat with large looming eyes is both funny and eerie!), decent side roles (the Egor-like friend Edgar might as well be right out of "Pee Wee's Big Adventure!") and a Disney sensibility (good or bad depending on your point of view!), but this full-feature "Frankenweenie" is ultimately uninspired.    
Best Feature: Never saw it until now (shame on me!), but the live-action short of "Frankenweenie" that was Burton's first is included here and it's a sight to behold.  An early glimpse into the genius that would become Tim Burton, his short has a great cast (Daniel Stern, Shelley Duvall and even some tasty Paul Bartel action!), campy style (the graveyard here looks like it came out of "A Nightmare Before Christmas"...but for real!) and a whimsical tone that lets you know it's Burton at his best.  (Aka this is better then the feature film folks!)
Best Hidden Gem: For those who want a little more of the stop-motion version (and much more sanitized!) there is an additional adventure here entitled 'Captain Sparky vs. The Flying Saucers' that will keep the kids occupied!
Worth the Moola: A fairly generic, though at times gamey family outing that isn't without a few notables.