Blu-ray Review: 'Frankenstein's Army'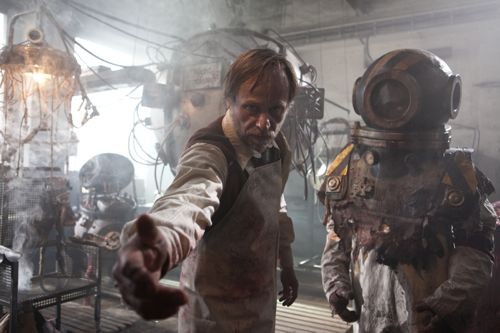 Ready for a little flesh mixed with metal monster action?  Then follow us as we check out the new to Blu-ray title "Frankenstein's Army" out now from Dark Sky Films.  The experiments get reviewed and double-checked below.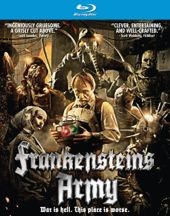 Title: "Frankenstein's Army"
   Grade: 3 1/2
   Cast: Karel Roden, Joshua Sasse, Luke Newberry
   Director: Richard Raaphorst
   Rating: R
   Runtime: 84 minutes
   Release Company: Dark Sky Home Entertainment
   Website: www.darkskyfilms.com
The Flick: While it does have a slow build up, the beauty of "Frankenstein's Army" is the sheer insanity of the eventual monster mayhem.  Meaning once the Soviet soldiers enter the layer of madman Karel "Hellboy" Roden all normalcy bets are off.  And it's in this section that the film shows it's best colors, sporting creepy monsters (a little teddy with a woman's head, anyone?!) and eerie experiments (mixing half brains from gents on opposing political sides seems fitting!) galore.  Though for all the creative juice from "Frankenstein's Army" in the bloody good category, I must admit I'm just not a fan of the first person camera anymore.  Everyone is always telling the cameraman to get lost and/or blocking his vision – not exactly great for those who want a front row seat to the fun.  But for Halloween folks looking for a decent dose of deranged, Roden's army has got the goods. 
Best Feature: The 'Making Of' is certainly decent and thorough, just wish they had dived deeper into the mind of Roden on this character. 
Best Hidden Gem: The section of 'Creature Spots' is like a moving pack of cool monster cards.
Worth the Moola: While yet another first person camera flick, Roden and his flesh-filled robots break through the fourth wall.