Blu-ray Review: 'Francis Ford Coppola 5-Film Collection'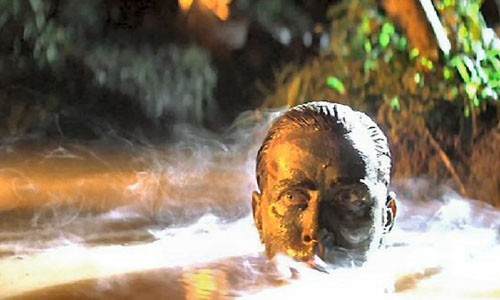 The horror.  The collection.  Is it good or bad?  We're about to find out as we check out the new set featuring work including "Apocalypse Now" with the "Francis Ford Coppola 5-Film Collection" out Dec. 4 from Lionsgate Home Entertainment.  The review skinny awaits below.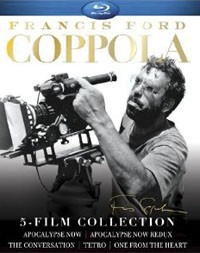 Title: "Francis Ford Coppola 5-Film Collection"
   Grade: 3
   Cast: Martin Sheen, Vincent Gallo, Gene Hackman
   Director: Francis Ford Coppola
   Rating: R
   Runtime: 702 minutes
   Release Company: Lionsgate Home Entertainment
   Website: www.lionsgateblu-ray.com
The Flicks: As far as Francis Ford Coppola flicks go this 5-Film Collection is one mixed bag.  At the five star level you have the undeniably magnificent "Apocalypse Now," a masterwork filled with deep, moody and emotional visuals and storytelling that burrows in.  And every part of the film is pitch perfect; from the spot on voice over by a disillusioned Martin Sheen to the captivating presence by an ethereal Marlon Brando.  Every frame, every lingering moment, every song and sound shows exactly what cinema was meant to do.  (And on Blu-ray it's like a match made in heaven!)
"Apocalypse Now Redux" is a classic example of why one should not mess with perfection.  Tinkering with his original cut, Coppola doesn't by any means ruin the film, but merely adds elements totally not needed and thus now makes the viewer feel the long and lingering run time that the original so beautifully masked.
"The Conversation" confines Coppola with the story of a wiretap man who gets more then he bargains for and it's a fantastically detailed side of the filmmaker.  Gone are the lush frills and gimmicks of visual filmmaking, instead stripped down for a character study where every moment has a possible clue to discover.  Plus taking the trip with a laser focused Gene Hackman does hit the spot.
"Tetro" is an unusual film – hence why it features the acting stylings of the equally strange and unusual Vincent "Brown Bunny" Gallo.  As a tortured artist and poet with family issues, Gallo is the right man for the material ("Buffalo '66" solidified that one!), but Coppola does take a while to get going here.  And I couldn't decide whether or not shooting the film in black & white with poignant moments in color was brilliant or pretentious – like the film itself a conundrum of positive and negative points.   
"One From the Heart" may have been special in its day, but in this set comes off like a lame duck afterthought.  Part heavy drama, part song and dance flick, but feeling altogether like a bad stage play, even greats like Raul Julia and Harry Dean Stanton can't save this one from the bad movie pile.  (Plus when the highlight of the flick is a continually naked Teri Garr there's definitely trouble in paradise!)
Worth the Moola: Sorry, no.  Without classic selections like "The Godfather" (1 and 2!), "The Outsiders," "Bram Stroker's Dracula" and hell even "Tucker: The Man and his Dream" this can hardly be described as a must own for a fan of all things Coppola.