Blu-ray Review: 'Forced To Fight'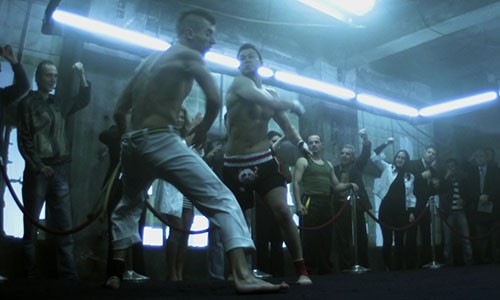 Ready to rumble down and dirty...against your will?  That's what faces the lead character in the new to Blu-ray title "Forced To Fight," out now from Image Entertainment.  The pull no punches review is ready below!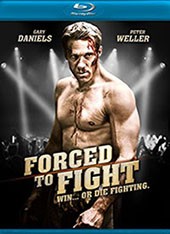 Title: "Forced To Fight"
   Grade: 2 1/2
   Cast: Gary Daniels, Peter Weller, Arkie Reece
   Director: Jonas Quastel
   Rating: Not Rated
   Runtime: 100 minutes
   Release Company: Image Entertainment
   Website: www.watchimage.com
The Flick: While the premise of "Forced To Fight" is anything but original (think Caruso's "Kiss of Death" for the MMA crowd!), it's not what pins the film to the unmemorable mat.  It's actually the lame work of lead man Gary Daniels, who plays one of the most unlikable and uncharismatic family men to ever grace the screen.  Unconvincing and annoying as both a loving father and then a moody husband, Daniels is just a hard guy to root for here.  Thankfully Peter Weller does pick up the acting slack in a bad guy role befitting of his former "Robocop" foes – taking relish the wicked.  "Forced To Fight" is standard DVD fluff fare with a lead man who's lacking in lead.
Best Feature: There are only two features on this disc, both of which are super short.  But since the 'Filming the Fights' Making-of is a tad longer then the 'Behind the Scenes with Peter Weller' (why not make the conversation longer and more career orientated you guys?!) got to give it the semi-nod.  (Did dig the short look at spinning cameras and heads going through car windows!)
Best Hidden Gem: Again in a nice turn away from the good guy roles he's become synonymous with, Weller feels fun and right at home as the local man minus morals.
Worth the Moola: Bored, everything else out and you're just looking for some so-so fights – Sunday afternoon stuff "Forced To Fight" to the rescue.