Blu-ray Review: 'Fire With Fire'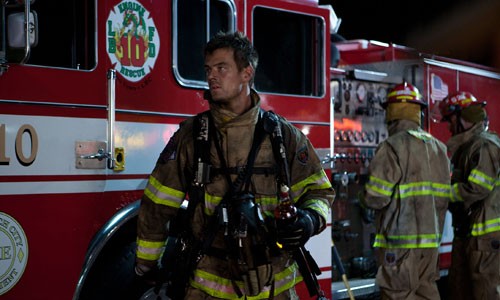 Bruce Willis, Rosario Dawson, Julian McMahon and Vincent D'Onofrio all in the same flick?  Play with matches you get burned, so follow us as we check out the new to Blu-ray "Fire With Fire," out Nov. 6 from Lionsgate Home Entertainment.  The smoke from fire (and the review!) is wafting in from below.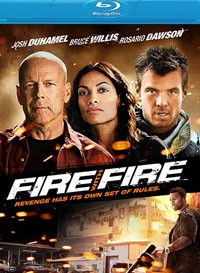 Title: "Fire With Fire"
   Grade: 2
   Cast: Josh Duhamel, Bruce Willis, Vincent D'Onofrio
   Director: David Barrett
   Rating: R
   Runtime: 97 minutes
   Release Company: Lionsgate Home Entertainment
   Website: www.lionsgatebluray.com
The Flick: "Fire With Fire" seems like it has a decent premise (guy witnesses a murder and decides to testify), good action (Bruce Willis in tough guy mode!) and a cast of colorful characters (Vincent D'Onofrio never met a wacko he couldn't make memorable!) to boot.  So where did the flick come from and why hadn't anyone heard of it?  Simple – "Fire With Fire" is a bloated mess that bites off way more story then it can chew, plus it's with uninspired direction that makes Michael Bay look like an auteur.  And while Josh Duhamel does make a convincing fireman, when he dons weapon to exact revenge it's a tad hard to swallow.  Willis walks through a role that's almost non-existent, Rampage Jackson and 50 Cent make shitty appearances and this one feels like it's running way too long.  (aka cut this one to 80 minutes and be done!)  Only notable exception is the creepy turn by D'Onofrio as a vicious crime lord – another one for the books.
Best Feature: Most features are cookie cutter safe fare – only slight cool is the inclusion of D'Onofrio in the 'Actor Commentary' section.
Best Hidden Gem: Liked seeing "Nip/Tuck" man Julian McMahon not only trying to perform a surgery, but also wield a weapon as a local assassin for hire here.
Worth the Moola: Light, fluffy and forgettable this one is only good in very small doses.