Blu-ray Review: 'Finding Nemo 3D: Ultimate Collector's Edition'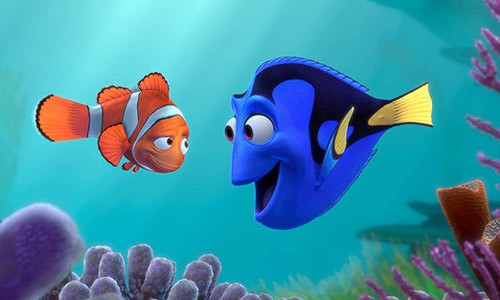 Ready to head back under the sea for a little extra blue – Blu-ray that is?  Then check out our review of "Finding Nemo 3D: Ultimate Collector's Edition" Blu-ray out Dec. 4 from Pixar/Walt Disney Home Entertainment.  The reviewed 3D search for the little orange and white guy lies below!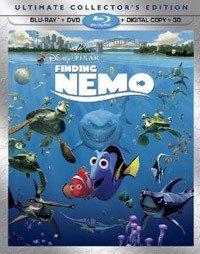 Title: "Finding Nemo 3D: Ultimate Collector's Edition"
   Grade: 5
   Cast: Voices of Albert Brooks, Ellen Degeneres, Willem Dafoe
   Director: Andrew Stanton
   Rating: G
   Runtime: 100 minutes
   Release Company: Pixar/Walt Disney Home Entertainment
   Website: www.DisneyBluray3D.com
The Flick: "Finding Nemo" is the perfect five-star accumulation of great story, striking animation and effective voice casting.  The film marked a real step in terms of great animation for both kids and adults to enjoy together.  For the tots, the ocean and all its wares are in such full glorious view here that you almost forget its computer created.  For the adults Director Andrew Stanton's voice casting is a dream come true; the wry Albert Brooks as the over protective father Marlin, Ellen DeGeneres as his forgetful friend Dory and a cast of fabulous side characters that each have their own memorable moments.  (Even the subtle scene with the two floating birds that ends in flatulent tragedy is pure Pixar gold!)  This release not only sees the flick made more lush with a Blu-ray version, but there's also glorious 3D capability for the avid fan.  There are some films that are not really enhanced by the process – this is not one of them.  In a 3D format, the sounds, sights and overall underwater color palate has never popped more.  Should you buy this one?  "Finding Nemo" was made for 3D.  
Best Feature: For fun it doesn't get better then the animated short 'Knick Knack,' but for those looking to give the youngsters some educational time as well check out the informative but cool 'Mr. Ray's Encyclopedia' feature.
Best Hidden Gem: Listen for John 'Cliff from Cheers' Ratzenberger as the voice of the sassy shape shifting school of fish.
Worth the Moola:  Worth it?  A five star film with five star extras just got better – enough for you?