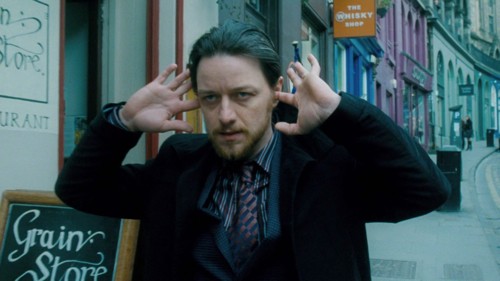 Ready to see James McAvoy get some dirty deeds done dirt cheap?  Then follow us as we check out the new to Blu-ray flick "Filth" out now from Magnolia Home Entertainment.  We review the good in being bad below.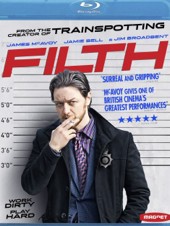 Title: "Filth"
   Grade: 4
   Cast: James McAvoy, Jamie Bell, Eddie Marsan
   Director: Jon S. Baird
   Rating: R
   Runtime: 98 minutes
   Release Company: Magnolia Home Entertainment
   Website: www.magpictures.com
The Flick: I said it in the theatrical review and I'll say it again – there is some dirty good fun to be had within "Filth."  Taking a page out of the "Trainspotting" book of being deviant (thanks to same author Irvine Welsh), "Filth" follows an inspired, sick and disturbed James McAvoy as he cons, schemes and pulls no punches to get everything that's coming to him.  Along the way he corrupts some folks (Jamie Bell's fellow officer never knew what hit him!), takes advantage of others (as the naïve Bladesey, Eddie Marsan has never been better!) and even meets his match (Imogen Poots gives him a good run for the money!), but in the end it's the prowess match of McAvoy and the material that matters most.
Best Feature: The saucy 'Commentary' by Jon S. Baird and Author Irvine Welsh where the two wax nostalgic about everything from butt doubles to the racy material is a hoot.
Best Hidden Gem: Again, Eddie Marsan is so effective as the easily led Bladesey that even as an audience member one feels shame.
Worth the Moola: Fun, feisty and ferocious, "Filth" fills the need.