Blu-ray Review: 'Fast & Furious 6 - Extended Edition'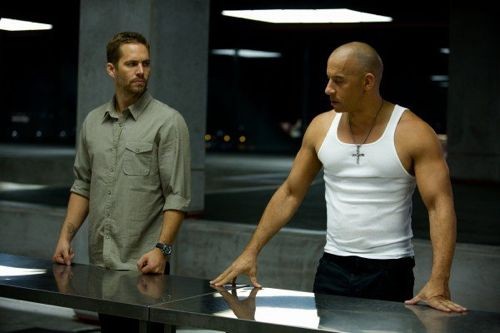 Is six times a charm?  We're paying tribute to the work of the taken way too late Paul Walker by checking out the new to Blu-ray "Fast & Furious 6 - Extended Edition" out now on Blu-ray/DVD from Universal Home Entertainment.  Cars and their speeds get reviewed below.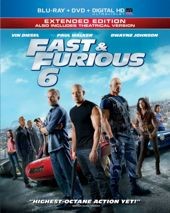 Title: "Fast & Furious 6 - Extended Edition"
   Grade: 4
   Cast: Vin Diesel, Paul Walker, Dwayne Johnson
   Director: Justin Lin
   Rating: PG-13
   Runtime: 131 minutes
   Release Company: Universal Home Entertainment
   Website: www.UniversalHiDef.com
The Flick: It's hard to watch Fast 6 now in light of the recent death of star Paul Walker, though more especially since this Fast outing has such a strong emphasis on family.  With babies and familiar faces hitting this sixth outing, the power of kin weighs heavy here.  Not that the action (a little Gina Carano/Michelle Rodriguez fists of fury action!), comedy (love the scene where Tyrese examines a rival gangs photos and find similarities!) and car prowess (dig those ramp enhanced autos!) isn't at full Justin Lin helmed tilt, but with Vin Diesel and gang going after a much more elite group with only the power of family on their side, it's hard to imagine a Fast film without the core players.
Best Feature: The doc Hand to Hand Fury examines that rather memorable fight between Carano and Rodriguez in total detail – girl fight indeed!
Best Hidden Gem: Both the 'Take Control Featurette' and the 'Exclusive Look at Fast 7' are steeped in full charismatic Paul Walker involvement and it's bittersweet for fans.
Worth the Moola: A fine sentimental follow up to the five star action ride "Fast Five."