Blu-ray Review: 'Fast Five' (Extended Edition)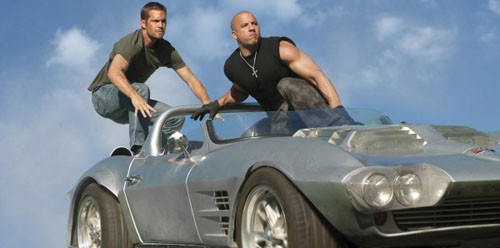 Ready to see if Blu-ray and its extras can equal the brawn, beauty and bumpy ride that is the five-star "Fast Five."  Well, since this week the 'Extended Edition' hits the shelf via Universal Home Video, we thought we'd speed up and check out the rims, spoilers and hubcaps of this sleek looking Blu-ray baddie – the race results are below!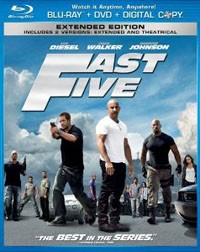 Title: "Fast Five" (Extended Edition)
   Grade: 5
   Cast: Vin Diesel, Paul Walker, Dwayne Johnson
   Director: Justin Lin
   Rating: PG-13
   Runtime: 132 minutes
   Release Company: Universal
   Website: www.UniversalHiDef.com
The Flick: Gotta say, watching this bad boy a second time in the glorious Blu-ray format only served to confirm what a stunning piece of sizzling summer cinema "Fast Five" truly is.  Not even being that much of a fan of the forgettable sequels (Tokyo Drift – really?!), "Fast Five" is a film that reinvents itself into one amazing, kick-ass action yarn that requires no previous knowledge of the films it followed.  Bad guys, good guy, slick guys, quiet guys and even gals who get rough, all under the umbrella of fast cars, fast chases, fats fights and one heist that would give "The Great Train Robbery" a run for it's money – five times a charm for all involved.
Best Feature: This Blu-ray was so hard to pin down in terms of choosing one extras highlight.  (And the 'Extended Edition' plays like a longer, but even more tasty version!)  With a cavalcade of goodies like the whole 'Second Screen' options, commentary and a ton of featurettes on everything from the heist (they made a damn drivable vault!) to the bridge scene (they wrecked fourteen cars on that scene alone!)  and even deep looks at lead characters, this one has hours of fun for the film fanatic.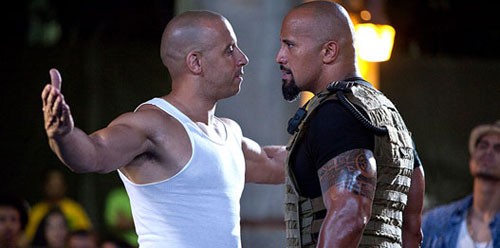 But the crème de la crème is the featurette 'Dom Vs. Hobbs,' where we get to see first hand how that gritty and effective smack down fight between Diesel and The Rock got made (it took five days to shoot and they even discussed the merits of a single move for two hours!) – the stuff of legend and hard work.  
Best Hidden Gem: 'On Set with Justin Lin' gives an incredibly honest look at the pressure Lin was under, especially here trying to get a shot of a car while being thwarted by various folks at every turn – stick to those guns Justin!
Worth the Moola: Richard Corliss of Time, a man who I have incredible admiration for being brutally honest, says this one is "the best of the series" and the man ain't lying.  "Fast Five" manages to show that with a good script, interesting characters, hot cars, down and dirty fights and a lot of action spectacle, any and every sequel has potential to top it's former self.  "Fast Five" is just that – a fast five-star flick for fans of fun film.