Blu-ray Review: 'Everything Must Go'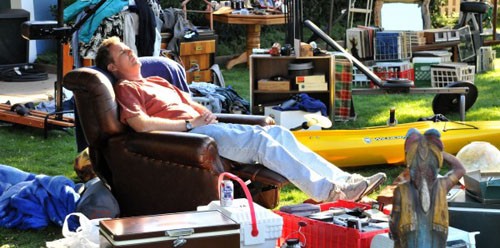 Ready to dive head first into a life that's probably worse then yours?  Then head on over to the life yard sale on the front lawn of one Will Ferrell where whether he wants it or not, "Everything Must Go."  (On Blu-ray Sept. 6 from Lionsgate!)  Check out the base price skinny below!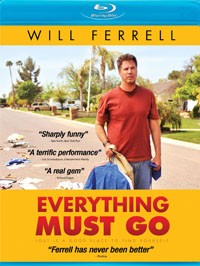 Title: "Everything Must Go"
   Grade: 4
   Cast: Will Ferrell, Rebecca Hall, Michael Pena
   Director: Dan Rush
   Rating: R
   Runtime: 97 minutes
   Release Company: Lionsgate
   Website: www.lionsgatebluray.com  
The Flick: Is it just me or does the drama of Will Farrell just keep getting better and better?  First it was his drama with comedy turn in the memorable "Stranger Than Fiction" and now it's the sullen sad sack of "Everything Must Go."  Of course, it helps to be surrounded by great actors like Rebecca Hall, Michael Pena, and Laura Dern, but it's when Farrell's character Nick Halsey is alone, in an exposed yard filled with the ruin of his life that "Everything Must Go" actually comes to life. 
Best Feature: 'In Character with Will Ferrell' shows not only the funnyman on set, but shows his more morose prep and talks to others about his dramatic work within.
Best Hidden Gem: No question - Laura Dern.  She may only have a short scene here, but her effective work opposite Farrell not only shows what a natural talent she is, but how she can up another actor's game.
Worth the Moola: Even at a higher sale price then you may want to pay, fork out a few extra bucks and make the purchase – it's a steal no matter what.