Blu-ray Review: 'E.T. The Extra-Terrestrial' (30th Anniversary Edition)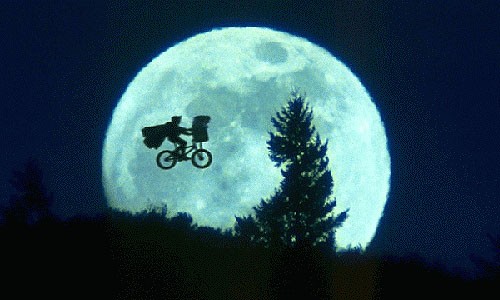 E.T. Blu-ray phone home!  It's been a whopping thirty years and its time to head back to glowing finger land with a look at the new to DVD/Blu-ray "E.T. The Extra-Terrestrial: 30th Anniversary Edition" out Oct. 9 from Universal Home Entertainment.  The bike rides to the review below.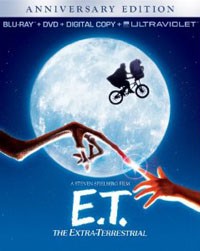 Title: "E. T. The Extra-Terrestrial" (30th Anniversary Edition)
   Grade: 4
   Cast: Dee Wallace, Henry Thomas, Drew Barrymore
   Director: Steven Spielberg
   Rating: PG
   Runtime: 115 minutes
   Release Company: Universal Home Entertainment
   Website: www.UniversalHiDef.com
The Flick: There's no doubt that Spielberg's vision of a broken family and a strange alien as the surrogate father is a dramatic piece of cinema genius.  But how does this one look on Blu-ray?  It's glorious.  Crisp, clean and pristine, the visuals and setting of the 80's is in full view and gives this tale the credibility for the sassy situations within.  (aka single mom, kids home alone, savory language!)  But in the end it's the touching and innocent relationship between wide-eyed alien E.T. and human friend Elliot that pushes the tears over even the most hardened set of manly eyes till not a dry eye is left in the house – sweet stuff indeed.
Best Feature: The 'E.T. Reunion' is a fantastic look at the main actors, then and now, as they reminisce about their characters, experiences and what it was like working with an equally child like Spielberg.  (Seeing him dress up in lady clothes like E.T. is scary stuff!)
Best Hidden Gem: The featurette 'Steven Spielberg & E.T.' is the closest fans are ever going to ever get to a commentary track from the normally mum-lipped Spielberg, who talks in great detail here about how important E.T. was to him.  (Steven – a little full-length track of thought and insight won't kill the magic!)
Worth the Moola: For those who love this flick, this is the format for you.  What's better then seeing every wrinkle in E.T.'s bony finger in a crystal clear picture – the magic of the medium keeps it real.