Blu-ray Review: 'Escape Plan'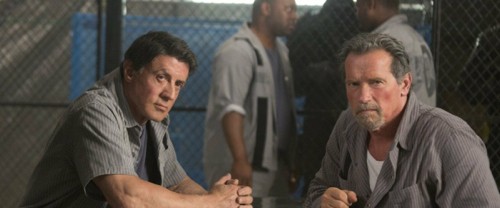 Ready to make an escape with the muscle bound tough guys who started it all?  Then follow us as we check out the new to Blu-ray action flick "Escape Plan" out now from Summit Home Entertainment.  The prison and escape routes are reviewed below!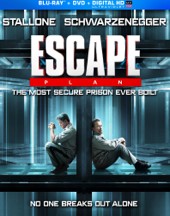 Title: "Escape Plan"
   Grade: 3 1/2
   Cast: Sylvester Stallone, Arnold Schwarzenegger, Jim Caviezel
   Director: Mikael Hafstrom
   Rating: R
   Runtime: 115 minutes
   Release Company: Summit Home Entertainment
   Website: www.lionsgateshop.com
The Flick: This one kind of came and went theatrically sounding the possible fluff material alarm, but as far as entertainment value this one keeps it real.  Not only does this breaking out of prison's for a living story house 80's tough guys Sylvester Stallone and Arnold Schwarzenegger still doing their thing, but for an added half star (three is basic down the middle!) you get Jim Caviezel channeling his inner Donald Sutherland ala "Lock Up," some quirky Vincent D'Onofrio, some angry Vinny Jones and especially some charismatic Amy Ryan.  (There is some horrible 50 Cent stuff here – but it's small and relatively shrapnel free!)  Action, some acting and style via Director Mikael Hafstrom – happy rental fare.
Best Feature: The featurette 'Maximum Security: The Real-Life Tomb' examines past and present history of prisons – an A&E-like doc that doesn't suck!
Best Hidden Gem: Is it just me or does Amy Ryan make you fall in love with her no matter what the film – just saying!
Worth the Moola: Looking for some escape – plan to be simply entertained.