Blu-ray Review: 'Enemies Closer'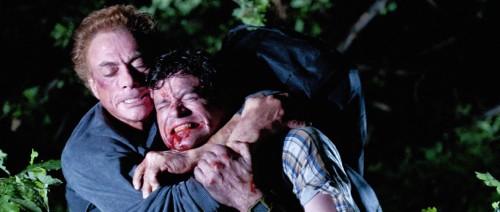 Ready to NOT root for Van Damme?  (aka now the bad guy!)  Then follow us as we check out the new to Blu-ray action flick "Enemies Closer" out now from Lionsgate Home Entertainment.  We assess and review the van damage below!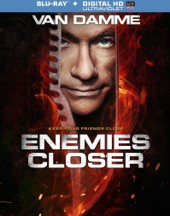 Title: "Enemies Closer"
   Grade: 3
   Cast: Jean-Claude Van Damme, Tom Everett Scott, Orlando Jones
   Director: Peter Hyams
   Rating: R
   Runtime: 84 minutes
   Release Company: Lionsgate Home Entertainment
   Website: www.lionsgateshop.com
The Flick: I think it's most amusing that the Blu-ray box is touting Van Damme as the star of this film when in actual fact the two leads playing enemies who must work together (yes the premise of the title!) are Tom Everett Scott and Orlando Jones.  The two of them are actually the best thing about the film, keeping things on an entertaining level.  Van Damme himself is playing an inspired but ultimately not buyable flamboyant bad guy who's a cross between Travolta in "Broken Arrow" and Carrot Top.  (Love the hairdo!)  They're saying this is a reunion of sorts between the star and his "Timecop" Director Peter Hyams, but evidence of that former grounded Van Damme is long gone for better or for worse.  (Though Hyams is still going strong!)
Best Feature: The 'Commentary' by Hyams gets dry fast, but the 'Making-of' Featurette has some interesting insight from all involved.
Best Hidden Gem: Love the little tough pixie gal played by Linzey Cocker.
Worth the Moola: Forget the Van Damme and go for story and Scott and Jones clashing and it's worth checking out.