Blu-ray Review: 'Drive Angry'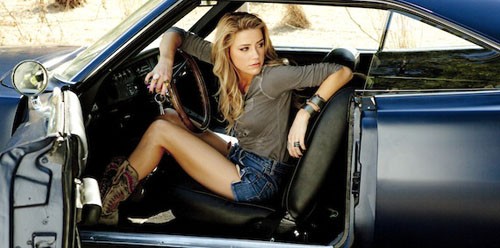 Just the sexual and sensual ooze of luscious Amber Heard is enough to snare any red-blooded movie fan.  But add in some fast cars, bitter dudes from hell and 3D effects that put you in the heart of the action and you've got a must see movie.  We're checking out the spectacle that is "Drive Angry" (out May 31 on Blu-ray 3D, 2D and DVD from Summit Entertainment!) with a look at the flick and features in high gear – start your engines!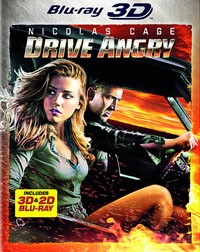 Title: "Drive Angry"
   Grade: 4 1/2
   Cast: Nicolas Cage, Amber Heard, William Fichtner
   Director: Patrick Lussier
   Rating: R
   Runtime: 105 minutes
   Release Company: Summit Entertainment
   Website: www.summit-ent.com
The Flick: The title says it all with this one – lots of anger, lots of driving.  Fortunately, I love both and their quality in this flick (in both 3D and 2D!) via "My Bloody Valentine 3D" team Director Patrick Lussier and writer Todd Farmer is many car lengths ahead of the pack.  Cage (always more solid when he's somber) plays Milton, a bitter recent escapee from hell who's out to avenge the death of his daughter and save her baby from a cult.  Along for the ride is high shorts showing a little ass Amber Heard (who can surprisingly pull off decent dramatic scenes too!), devil right-hand-man William Fichtner (that strange bastard was BORN to play this role!), scene chewing tough guy Tom "Night of the Creeps" Atkins and full on nude hotties Christa Campbell and former "NYPD Blue" vixen Charlotte Ross.  Top it off with some cool 3D effects that were actually made on purpose (take note "Clash of the Titans!"), fun musical choices ("Raise a little hell!") and the glory that is a 1969 Dodge Charger and you got a flick that delivers on all it's proposed cinematic lunacy – thank God.    
Best Feature: By far the same thing on most of Director Patrick Lussier's flicks – the commentary track!  Plagued with a case of laryngitis, Lussier (along with writer Todd Farmer) still comes off sounding super cool and crack jokes (he calls his film an "incredibly subtle, gentle road movie!") gives interesting unknown character insights (the three dudes who get it in the beginning were called "the f*ckers" in the script!) and delves into his unique directing style. (He told Amber Heard to grab the Charger gearshift "like a c*ck!")  We're all ears Patrick!
Best Hidden Gem: The so very awesome Access Drive Angry, which is a different way to watch the film with one or all three additional choices that can play alongside the movie.  Included is Cast and Crew Insights with interviews played picture-in-picture, Milton's Mayhem that's the body count of our bitter hero and Did You Know where you can get trivia and knowledge about all things Angry.
Worth the Moola: Whether it's 2D, 3D or 1Knee (to the groin that is!), if you like it frivolous and fun it's buying time.  (Aka make a deal with the devil if you have to, but get your hands on this one!)