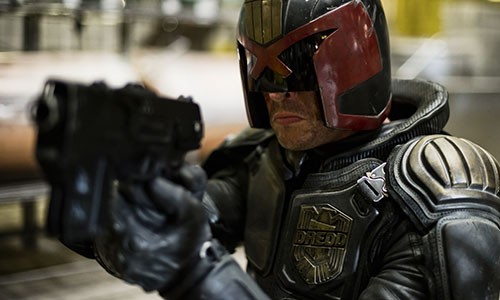 So can 'Mr. I Am The Law' survive without Rocky himself?  We're checking out the new and darker version of the famed comic book hero in the form the Blu-ray release of "Dredd," out Jan. 8 from Lionsgate Home Entertainment.  The review judgment awaits below!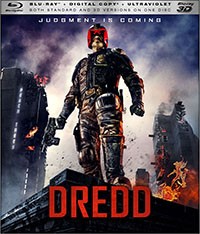 Title: "Dredd"
   Grade: 3
   Cast: Karl Urban, Olivia Thirby, Lena Headey
   Director: Pete Travis
   Rating: R
   Runtime: 96 minutes
   Release Company: Lionsgate Home Entertainment
   Website: www.dreddthemovie.com
The Flick: A far cry from the lame and fluffy 1995 "Judge Dredd" with Sly Stallone, this updated version goes for a much darker and bleaker vision of crime and punishment and it certainly helps.  In fact the surly "Dredd" this time around ("Star Trek's" Karl Urban) is much more fitting to the source material – a no-nonsense cop with a single focus of doing the job.  Problem here is that the story setting, which finds Dredd and his rookie trainee locked inside a tall building filled with bad guys with evil intentions, has already been done better this year.  Meaning if you already saw "The Raid: Redemption" this one is gonna feel very familiar and seriously watered down.  So no fast fight moves, kung fu fury or even the occasional brutal to the death here, just bitter gun brawls where everyone seems to be playing a game of mine's bigger than yours.  (aka a tad uninspired!)  The only things that give this one slight elevation are the fact that Urban NEVER takes off that damn judge helmet (a ballsy move man!) and the bad guy (or should I say bad woman!) here is one saucy and memorably caustic performance by "300" leading lady Lena Headey.  (Love that scar Lena!)  Dark and gritty, but only mildly entertaining, "Dredd" unfortunately has a serious case of Raid envy.  (And yes, the Blu-ray 3D here is notable, but still doesn't give this one Redemption factor!)
Best Feature: The featurette 'Mega-City Masters: 35 Years of Judge Dredd' is a fascinating look at the origins of the character from conception (the creator calls Dredd a "Good guy and bad ass at the same time!") to controversial story turns (Dredd even busts...fat folks!) and it's awesome stuff.  (Plus who knew he was a British character?!)
Best Hidden Gem: The mini-doc 'Dredd's Gear' takes a tasty look at all the hand built trimmings of the big guy for the film from weapons to wheels – so cool.
Worth the Moola: Again, a serious upgrade as far as the forgettable Sly Dredd, but with its Raid-esk story that doesn't match up this Judge finds itself on shaky familiar ground.