Blu-ray Review: 'Dr. Seuss' The Lorax'
He has the voice of Danny DeVito and the moustache of The Simpson's Ned Flanders.  He's "Dr. Seuss' The Lorax," now available on Blu-ray from Universal Home Entertainment.  Follow the orange review fur below!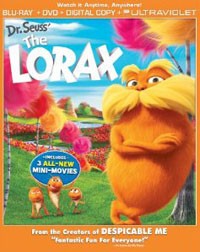 Title: "Dr. Seuss' The Lorax"
   Grade: 4
   Cast: Voices of Danny DeVito, Zac Efron, Ed Helms
   Director: Chris Renaud
   Rating: PG
   Runtime: 87 minutes
   Release Company: Universal Home Entertainment
   Website: www.theloraxmovie.com
The Flick: I didn't get a chance to see this one during its theatrical run, but I'm thankful to catch it on Blu-ray as "The Lorax" is one damn fine Seuss flick.  There's actually surprisingly something for everyone – a story of cute forest animals for the tots, a little teen romance for the adolescent crowd and a saucy lead for the adults.  If fact, Danny DeVito is so amazing, so pitch perfect and so memorable as the lump like Lorax that it reminds us why we fell in love with him in the first place.  (Just think Louie De Palma but animated and orange!)  Plus the story here is a topical one (let's keep the trees for clean air shall we!), the songs decent and the characters colorful.  (In both tone and physical appearance!)  The best Seuss flick yet, this one is a must see. 
Best Feature: Universal has sweetly provided three awesome "Mini Movies" to keep the Lorax fun going – my favorite is Forces of Nature with more Lorax in mischief mode! (Plus I did get a kick out of the cool "Expedition to Truffula Valley" exploring feature!)
Best Hidden Gem: Again, DeVito is here doing what he was born to do – provide sassy sarcasm that sizzles.
Worth the Moola: Even if just for DeVito this would be a slam-dunk, but with all involved this one needs to be a part of your collection.