Blu-ray Review: 'Dinocroc Vs. Supergator'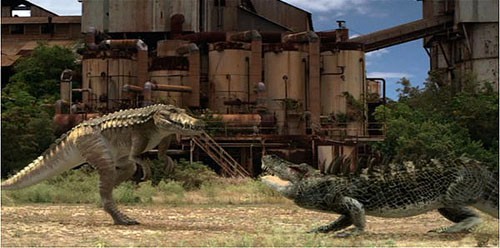 Two monsters, genetically enhanced, going toe-to-toe – who will win?  (And more importantly will it suck?!)  Find out all the play-by-play in the review below of the new to Blu-ray "Dinocroc Vs. Supergator" out now from Roger Corman and the folks over at Anchor Bay.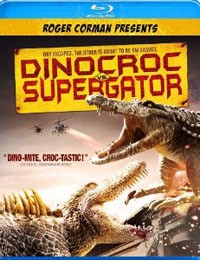 Title: "Dinocroc Vs. Supergator"
   Grade: 1 1/2
   Cast: Corey Landis, Amy Rasimas, David Carradine
   Director: Jay Andrews (aka Jim Wynorski)
   Rating: Not Rated
   Runtime: 87 minutes
   Release Company: Anchor Bay Entertainment
   Website: www.anchorbayent.com
The Flick: With Roger Corman flicks they used to be so bad it's good – this one is so bad it's bad.  Take away all elements of 70's cool cheese, all moderately decent looking practical monster effects and Grade-B acting that still stands out and replace it with year 2000 moldy fromage, horrible CGI on-your-kid-computer monsters and atrocious acting that makes Carrot Top look like Olivier and you've got the nudity-less SyFy Channel "Dinocroc Vs. Supergator."  (The title does speak for itself!)  The only notable element besides final work by the late David Carradine is the unlikely pairing of gamey leads Corey Landis (kind of a second rate Dave Coulier!) and Amy Rasimas (any Amy Smart wannabe!) as a geek and beauty that would only end up together in the movies. But the actual film, directed by "Chopping Mall" alum Jim Wynorski who has seen better days, is so just bad that by the time the eventual promised monster face-off does happen, even the most ardent sci-fi freak have already tuned out.       
Best Feature: The only one – a moderated (good idea always!) commentary with Director Wynorski (forgettable!) and Executive Producer Corman, who does in his own monotone way give interesting nostalgic stories from the past and low cost filmmaking tips.
Best Hidden Gem: Hearing Corman, who's worked with the late Carradine many times in the past, mention that he had heard suicide rumors in the past dealing with Carradine – chilling.
Worth the Moola: I guess the current sci-fi crowd digs this stuff, but I grew up on creative stuff like "Trancers," "Spacehunter" and "The Adventures of Buckaroo Banzai Across the 8th Dimension" – this one is like an outer-turd all the above crapped out and left far behind.