Blu-ray Review: 'Death Valley'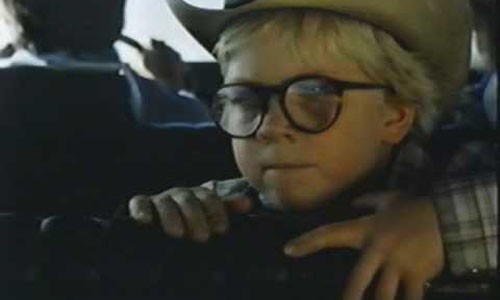 Nothing says a family outing like a little murder and mayhem!  We're hanging out with a pre-"A Christmas Story" Peter Billingsley as we review the new to Blu-ray "Death Valley" out Dec. 11 from Shout! Factory's horror division Scream Factory. Hit the road for some good old-fashioned family reviewing below!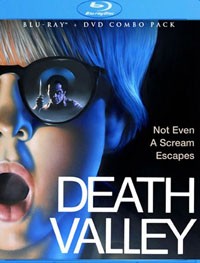 Title: "Death Valley"
   Grade: 2 1/2
   Cast: Paul Le Mat, Peter Billingsley, Stephen McHattie
   Director: Dick Richards
   Rating: R
   Runtime: 87 minutes
   Release Company: Shout! Factory
   Website: www.shoutfactory.com
The Flick: "Death Valley" is actually two very different flicks in one.  The first is like a gamey Afterschool Special about parents divorcing and their kid learning to cope with mom's new boyfriend.  The other is actually an interesting murder mystery with some surprising and shocking results.  The bad family dealings bit involves Child's Play mom Catherine Hicks having to tote around little Peter Billingsley to make nice with new beau Paul Le Mat and it's about as cheesy as it gets.  (His New York based father is of course Edward Herrmann – wonder if he's gonna have a problem with the new guy?!)  But as their uncomfortable vacation excursion continues there's also some nasty murders (a little mid hanky-panky stab anyone?!), cool characters (Stephen "Pontypool" McHattie was born to play a creep!) and even deadly Wild West fun.  (Billingsley gets into a gunfight with a masked man – only the guy is packing real ammo!)  Far from a dud, but not exactly a gem, Death Valley has its share of peaks and valleys for sure.
Best Feature: The single feature of a full length 'Commentary Track' (trailers and TV spots do NOT count folks!) is virtually unlistenable with Director Dick Richards adding no interesting insight whatsoever.  (Even with a moderate no less!)
Best Hidden Gem: Again, the early work by a leering Stephen McHattie makes this one worth watching.
Worth the Moola: Bored?  Everything else out?  Or just curious to see what the fuss was about back in 1982?  Rent it – and then put it back after before someone sees you!