Blu-ray Review: 'Deadly Blessing - Collector's Edition'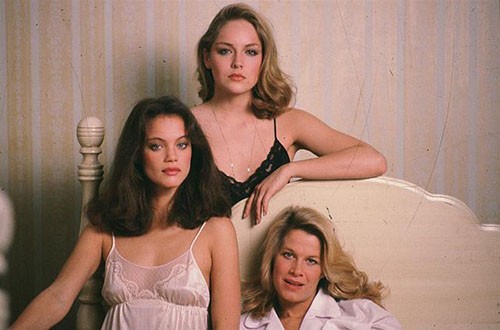 Ready to check out a little three-hottie horror outing courtesy of Wes Craven?  Then check out our review of the new to Blu-ray "Deadly Blessing: Collector's Edition" out now courtesy of Shout! Factory's horror label Scream Factory.  The Deadly review awaits below!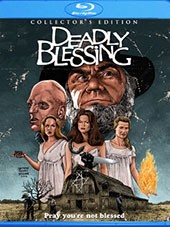 Title: "Deadly Blessing: Collector's Edition"
   Grade: 3 1/2
   Cast: Maren Jensen, Ernest Borgnine, Sharon Stone
   Director: Wes Craven
   Rating: R
   Runtime: 100 minutes
   Release Company: Shout! Factory Home Entertainment
   Website: www.shoutfactory.com
The Flick: "Deadly Blessing" does have its moments of early Wes Craven brilliance, but at its heart it's a cheese fest.  Playing out like "Dallas" for the dark crowd, the script which involves a dangerous cult lead by a wide-eyed Ernest Borgnine could almost pass for movie-of-the-week fare.  (Think "Little House on the Prairie" with an edge!)  Craven tries to add some sin the form of the creepy Hills Have Eyes Michael Berryman, a slithering snake and a spider into French kissing, but his genius obviously needed a better venue.  (And that Lisa Hartman end thing is ludicrous!)  Even a young and nubile Sharon "Basic Instinct" Stone can't make this one rise above mediocre. 
Best Feature: The feature 'Commentary' by Wes Craven is refreshingly candid, with Craven admitting the film is flawed.  Love hearing about everything from the on location close calls (Borgnine was on a cart where the horses took off!) to forced casting (Stone was being pushed onto Craven as the next big star!) – a fantastic listen.
Best Hidden Gem: Loved both the 'Interviews' with a sassy and still sexy Susan Buckner and Michael Berryman plus there's a cool cover that features different artwork on the inside!
Worth the Moola: If you don't mind a little TV cheese atop your Craven cake, then take a slice and enjoy.