Blu-ray Review: 'Day Of The Dead' (Collector's Edition)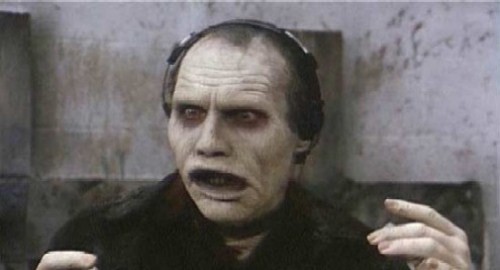 Do the dead indeed walk on Blu-ray?  We'll see as we check out the classic George A. Romero flick "Day of the Dead - Collector's Edition" out now from Shout! Factory's horror division Scream Factory.  We review the flick and Bub's shtick below!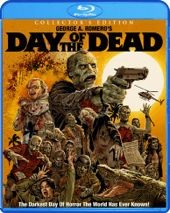 Title: "Day of the Dead" (Collector's Edition)
   Grade: 5
   Cast: Lori Cardille, Joe Pilato, Richard Liberty
   Director: George A. Romero
   Rating: R
   Runtime: 101 minutes
   Release Company: Shout! Factory Home Entertainment
   Website: www.shoutfactory.com
The Flick: Some fans claim "Dawn of the Dead" is superior to follow up Day, but I beg to differ.  Shadowing the light layering of Dawn, Day is a brilliant exercise in dark tones, psychological character studies (alive and undead!) and a dismal bleak view of life underground.  The characters being what some call 'over the top' make it all the more poignant, almost creating an alternate version of what humanity has become – and it's extreme in all cases.  Not to mention that the inclusion of thoughtful zombie Bub (brilliantly executed by actor Howard Sherman) takes the lore even further into the question of who we are and what we have become.  Oh yeah, there are some killer gore effects too!
Best Feature: Not only does this 5-star Scream Factory Edition have an amazing 'Commentary,' 'Behind The Scenes' stuff and a transfer finally worthy of it's stark and sterile landscape, but the making-of doc 'World's End' is THE most comprehensive featurette I have ever seen.  Everyone talks, the stories are captivating and everyone is honest to a fault – bravo Scream Factory.
Best Hidden Gem: The amazing Blu-ray cover artwork featuring a gun-toting Bub should be hanging up in a museum – I bow.
Worth the Moola: Forget Dawn, this Day has everything needed to satisfy.