Blu-ray Review: 'Date And Switch'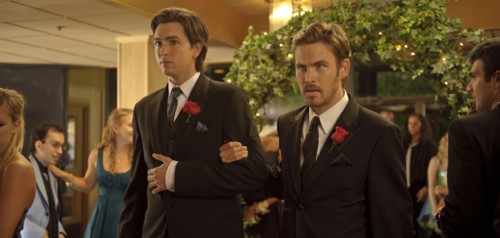 What if your best friend since childhood, your main dude told you he was a…gay dude?  Thus is the set up of the new to Blu-ray flick "Date And Switch" out now from Lionsgate Home Entertainment.  We review all complications of such an honest declaration below.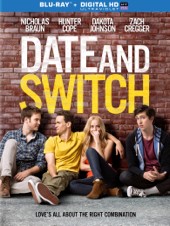 Title: "Date And Switch"
   Grade: 3
   Cast: Nicholas Braun, Hunter Hope, Dakota Johnson
   Director: Chris Nelson
   Rating: R
   Runtime: 91 minutes
   Release Company: Lionsgate Home Entertainment
   Website: www.lionsgateshop.com
The Flick: "Date And Switch" plays like a teen finding yourself sex comedy with a gay element and at times it both breaks ground and loses it's way.  The scenario here is an original one with teen sexual issues on both sides of the fence represented in both comedy and drama, but there's also such a spotlight on the gay element that the funny turns a tad too afterschool special.  The casting is great and there's certainly chemistry between couples Hunter Cope and Zach Cregger and Nicholas Braun and Dakota Johnson, but zany antics on both sides of this romantic equation should have flowed a bit more naturally in unison.  Just bringing in comedic ringers Gary Cole and Nick Offerman as proud pops isn't enough to even the playing field.
Best Feature: The 'Deleted Scenes' are a hoot with some saucy matchmaking and a little extra Gary Cole – always a good thing.
Best Hidden Gem: I really like the natural and down-to-earth turn by Dakota Johnson, daughter of Don and Melanie, as the witty Em.
Worth the Moola: New or old, good comedy should know no taboos.  (aka so-so!)