Blu-ray Review: 'Darkman - Collector's Edition'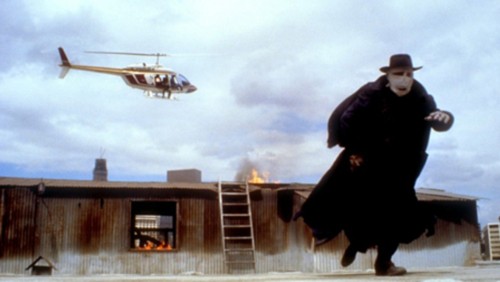 Ready for a little early Sam Raimi superhero action?  Then follow us as we check out the new to Blu-ray flick "Darkman – Collector's Edition" out now from Shout! Factory's genre division Scream Factory.  Evil has a new face and it gets reviewed below!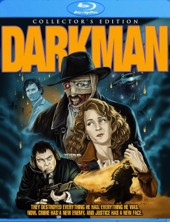 Title: "Darkman – Collector's Edition"
   Grade: 4 1/2
   Cast: Liam Neeson, Frances McDormand, Larry Drake
   Director: Sam Raimi
   Rating: R
   Runtime: 96 minutes
   Release Company: Shout! Factory Home Entertainment
   Website: www.shoutfactory.com
The Flick: I was always a fan of the comic book camp nature of Sam Raimi's "Darkman."  Infusing the pure movie glee of "Evil Dead II" (even his shots here scream old school Sam!) and matching it with a more grandiose feel (teaming with Universal will do that to you!), the film was totally underrated at the time of its release.  Plus what a cast – an early action man Liam Neeson as the dark anti-hero, Frances McDormand as his lady love (an great actress to boot!), Larry Drake as the finger chopping and cigar smoking bad guy and even a little Ted Raimi action as a memorable henchman.  (His head bobbing death here is unforgettable!)  Not to mention fabulous cinematography via Bill Pope (his first film!) and fantastic make-up work, but in the end this one belongs to Raimi.  His joy as a filmmaker, visual flair as a master storyteller and all out desire to create something beyond the norm is what makes "Darkman" a classic.    
Best Feature: Scream Factory has gone all out and with the exception of Raimi himself (who continues to be notoriously mum - what gives Sam?!) they get interviews with everyone from Neeson and McDormand to bad guys Drake and Danny "Jake" Hicks – thorough and captivating. (Though to be fair they do have Raimi chatting in a vintage making-of piece!)
Best Hidden Gem: 'Commentary' track with Bill Pope is a fabulous listen, but also watch for a special Raimi staple in the form of the final face Neeson's Darkman dons in the last moments of the film.
Worth the Moola: A great film, with fabulous extras and a cover that kills – Scream Factory knows their stuff!