Blu-ray Review: 'Cop Land'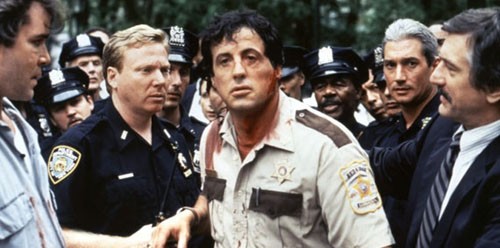 De Niro.  Keitel.  Liotta.  And a heavy and somber Stallone.  All are the fruits off the tree that is "Cop Land," the 1997 drama via writer/director James Mangold hitting Blu-ray this week from Lionsgate Home Entertainment.  Check out the citation list below!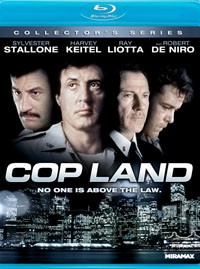 Title: "Cop Land"
   Grade: 4
   Cast: Sylvester Stallone, Robert De Niro, Ray Liotta
   Director: James Mangold
   Rating: R
   Runtime: 116 minutes
   Release Company: Lionsgate
   Website: www.lionsgatebluray.com
The Flick: I remember not being all that impressed when I saw "Cop Land" the first time around.  It actually wasn't until I got rid of pre-conceived notions of cool action and really absorbed the calculated slow pot boil drama that makes the film golden that I appreciated what an impressive piece of work Director James Mangold created.  Everyone involved is pitch perfect in their roles; Robert De Niro as a manipulative internal affairs man, Harvey Keitel as the town heavy, Ray Liotta as the unstable cop wrestling with demons and even Robert Patrick as a fellow corrupt officer all shine.  But in the end it's the impressive, underplayed and totally engrossing work of action man Sylvester Stallone as a low-key, burnt out and washed up town sheriff that gives "Cop Land" it's pure acting bravado.  Not since "Rocky" has Stallone displayed such a slow paced and fully layered performance that commands without flash or gimmicks.  It's a flick barren of cinematic tough guys and superheroes and instead replaced by inner turmoil and moral dilemmas of real people – Mangold and Stallone strike gold in this land. 
Best Feature: Both the 'Making-of' and 'Commentary' (Stallone, Patrick and Mangold – WOW!) provide awesome and equal amounts of insight into the casting, staging and making of "Cop Land" – a true labor of love for all involved.
Best Hidden Gem: Loved seeing some early Janeane Garofalo as – what else – a sassy sheriff's deputy!
Worth the Moola: This is a film that simply gets better with each viewing – the perfect purchase for those with taste.