Blu-ray Review: 'Confessions Of A Dangerous Mind'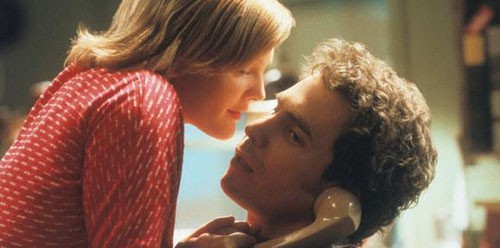 Could you really believe that a cheesy game show host actually moonlighted as a freelance assassin for the FBI?  So goes the tall tales of Gong Show host Chuck Barris, whose life is encapsulated in the film "Confessions of a Dangerous Mind" out this week on Blu-ray from Lionsgate Home Entertainment.  All the pros and cons over the debate are listed in review form below!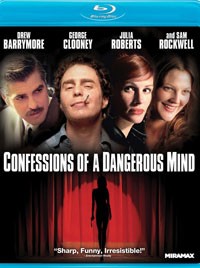 Title: "Confessions of a Dangerous Mind"
   Grade: 2 1/2
   Cast: Sam Rockwell, George Clooney, Drew Barrymore
   Director: George Clooney
   Rating: R
   Runtime: 114 minutes
   Release Company: Lionsgate
   Website: www.lionsgatebluray.com
The Flick: The premise of "Confessions of a Dangerous Mind" is very intriguing – Gong Show host Chuck Barris claims that he was an assassin for the FBI.  Problem is that the script by "Being John Malkovich" scribe Charlie Kaufman from Barris's book is a wild, insane and sometimes alienating piece of work.  That combined with the rather uninspired staging by first time director George Clooney (who replaced Bryan Singer at the last minute!) makes for one mildly entertaining, but mostly discombobulating experience.  The only thing that saves Confessions from being a total wash is the captivating performance by lead Sam Rockwell, who upstages everyone from Julia Roberts to Clooney himself, as the insane Barris.  And while everyone else, including gal pal Drew Barrymore, is coming at the material from a movie star state of mind, Rockwell works from the acting angle and as a result Confessions is his tour-de-force.
Best Feature: 'Chuck Barris The Real Story' is a further glimpse into the already interesting interviews with folks who know Barris and the man himself.  (The sad 'Sam Rockwell Screen Test' extra is almost embarrassing – he's better then everyone in the film!)
Best Hidden Gem: With one notable exception - Rutger Hauer will steal and play with any scene in any film.  (He's the Hobo with a camera in this one!)
Worth the Moola: For all Sam Rockwell fans, a must.  But for those expecting anything else, I must confess you won't mind missing this one!