Blu-ray Review: 'Conan The Barbarian'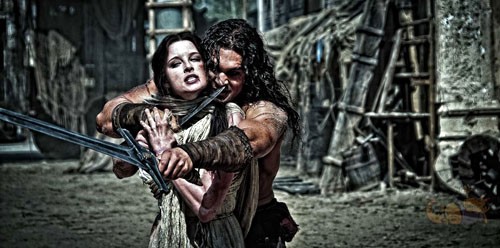 Hulking men.  Warrior women.  And some bloody battles to boot.  May sound like a trip to Ladies Night, but it's actually the return of famed muscular swordsman "Conan The Barbarian," out Nov 22 from Lionsgate Home Entertainment.  The opinion spell is cast and the review blade is sharp – move out!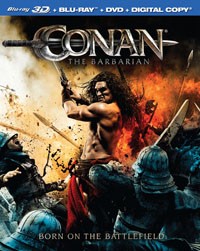 Title: "Conan The Barbarian"
   Grade: 3 1/2
   Cast: Jason Momoa, Rachel Nichols, Ron Perlman
   Director: Marcus Nispel
   Rating: R
   Runtime: 112 minutes
   Release Company: Lionsgate
   Website: www.lionsgatebluray.com
The Flick: For all the negative whoopla surrounding this remake, I rather enjoyed it.  From the beginning, which sees a young Conan being taught by his wise father (played with glee by "Hellboy" Ron Perlman!) to the sinfully seedy relationship between twisted looking father and daughter team Stephen "Band of the Hand" Lang and Rose 'Cherry' McGowan, this bloody battle ridden Conan is a fun trip. (Plus horror Director Marcus Nispel is now an expert on all things blood and guts!)  The only problem lies with the casting of Conan himself Jason Momoa, who has zero charisma, zero on-screen presence and makes Pauly Shore look like Olivier in the acting arena.  (A real shame as his female love interest Rachel Nichols deserves so much better!)  High on visuals, low on leading man, Conan is a guy who should be thankful to have such talented friends.
Best Feature: Amidst two full-length 'Commentaries,' a 'Robert E. Howard Doc' dissection and two 'Featurettes' on the blood and guts fights, I prefer 'The Conan Legacy,' which encapsulates everything Conan from the novels to comics to Arnold and the new flick in a one-stop-shop doc.
Best Hidden Gem: Again, any flick that has the class to use "Hellboy" himself as the training tool of destruction, has got it's action heart in the right place.
Worth the Moola: If you can get past the dud that is Jason Momoa, there's a ton of tasty Barbarian background that fills in the gaps nicely.