Blu-ray Review: 'Cold Mountain'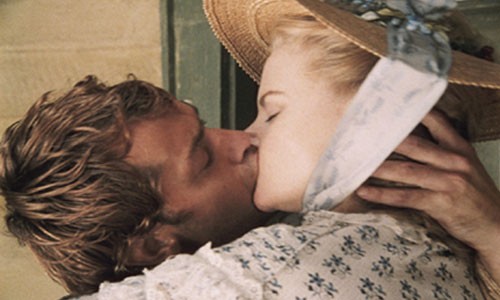 Love, passion and...the Civil War?  Only in a flick helmed by Anthony Minghella could such a thing exist and we're checking out his film "Cold Mountain" on Blu-ray Jan. 31 from Miramax and Lionsgate – review below!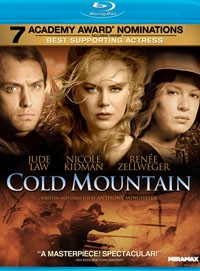 Title: "Cold Mountain"
   Grade: 4
   Cast: Jude Law, Nicole Kidman, Renee Zellweger
   Director: Anthony Minghella
   Rating: R
   Runtime: 154 minutes
   Release Company: Lionsgate/Miramax
   Website: www.lionsgatebluray.com
The Flick: "Cold Mountain," set in the battles of the Civil War, is no less a sprawling spectacle then Director Anthony Minghella's "The English Patient," but it has the distinct difference of having leads with incredible chemistry.  As long lost lovers Nicole Kidman and Jude Law are at their best here, keeping their potent love affair the heart of the film.  (And they only have two actual sections in the film together!)  Plus there's also a sassy Renee Zellweger and even a sleazy Philip Seymour Hoffman mixed in with the utterly amazing visual landscape that Minghella has become known for – the mountain may be cold, but the love in the air is hot.
Best Feature: 'Climbing Cold Mountain' is one long and kick-ass documentary that almost plays like a feature film itself – fans get their money's worth with this one alone.
Best Hidden Gem: Natalie Portman has a small but poignant part as a lonely gal waiting for her hubby to come home.
Worth the Moola: I'd buy this one over "The English Patient" anyday – chemistry is key.