Blu-ray Review: 'Chilling Visions - 5 Senses Of Fear'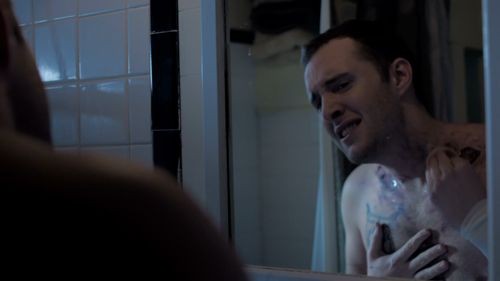 Ready to get your anthology on for Halloween?  Then follow us as we check out the new to Blu-ray flick "Chilling Visions – 5 Senses Of Fear" out now from Shout! Factory's horror department Scream Factory.  We check out all five senses and review them below!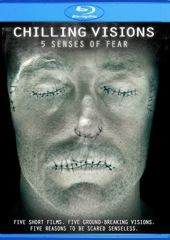 Title: "Chilling Visions – 5 Senses Of Fear"
   Grade: 4
   Cast: Corey Scott Rutledge, Hilary Greer, Caleb Barwick
   Director: Various
   Rating: Unrated
   Runtime: 88 minutes
   Release Company: Shout! Factory Home Entertainment
   Website: www.shoutfactory.com
The Flick: Overall, I really dug "Chilling Visions."  After the ho-hum "V/H/S" series and other recent anthology outings, this one has thankfully got some notable spunk and scares.  The film spools out in five senses beginning with my favorite of the bunch Smell, which tells the story of loser Seth Kyle (the pitch perfect Corey Scott Rutledge) who gets a confidence smelling potion from a strange lady with both good and bad results.  (An undeniably cool segment that reminds us of work like "Creepshow" - when these stories used to be fun!)  The second is See, where an optometrist who has been stealing the ocular memories of his patients goes too far after seeing his favorite patient abused by her husband and seeks a little payback.  (Creepy segment for sure!)  The third Touch is by young filmmaker Emil Hagins and it's quite a continual growth of the young director's style and mastery of movie mood.  (Good show Emily!)  After a car accident a sightless boy must save his trapped parents while also dodging a serial killer – tense tones galore.  The fourth Taste starts off smashing with a cocky young hacker brought in for a mysterious job interview by an unknown woman with attitude.  Problem is after some serious sassy set-up this one just goes for cheap blood and gore finale – a tragedy.  And the final segment Listen, about a documentary gang that finds evidence about a song that can kill upon hearing it, starts off slow but thankfully builds to a pretty heinous and brutal climax.     
Best Feature: I was a tad disappointed in the lack of features (I know Emily loves to do extra stuff and I would have liked to have heard her on making Touch!), but at least the single Deleted Scene is from my fav Smell.
Best Hidden Gem: Love not only the 80's references in Smell (writer/director Nick Everhart throws in some Steve "Guttenberg" love!), but the very cool montage of Seth getting goodies and spraying up a storm!
Worth the Moola: This is one of the best anthology flicks I've seen in years (last one I though brilliant was "Trick 'r Treat" back in 2007!) and it certainly deserves to be alongside the myriad of others that have come before it.