Blu-ray Review: 'Bringing Down The House'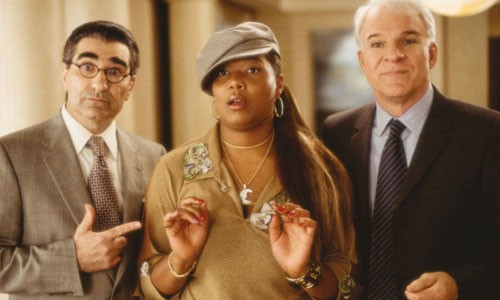 Steve Martin and Queen Latifah?  (With a little kinky Eugene Levy thrown in for good measure!)  All strange but true as we examine the Blu-ray of "Bringing Down the House" now available from Touchstone Home Entertainment.  Don't straight trip boo – the review is below!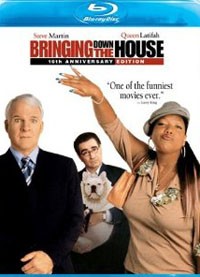 Title: "Bringing Down the House"
   Grade: 4
   Cast: Steve Martin, Queen Latifah, Eugene Levy
   Director: Adam Shankman
   Rating: PG-13
   Runtime: 105 minutes
   Release Company: Touchstone Home Entertainment
   Website: www.BVHESupport.com
The Flick: I actually avoided this one when it first came out and I'm sad I did.  For all the familiar situations (the loud Latifah inserts herself into Martin's prim and proper life!) and some pure cheese factor, this one won me over.  Martin's a perfect straight foil to everyone else (who are all fabulous by the way!) including the brash Latifah, the saucy Levy, the stuff Joan Plowright, the nasty Betty White and especially the underrated Missi Pyle as Martin's ex-sister in law.  Thankfully in this house comedy wins over corny.
Best Feature: Both the 'Gag Reel' and 'The Godfather of Hop' Featurette with Levy as a master of the hip-hop language holds more than enough comedy extra to keep the party rolling.
Best Hidden Gem: Levy may have all the lines, but Missi Pyle has the lines, look and bitchiness to steal every scene she's in.
Worth the Moola: For those like me who avoided this one for the trite factor, there are a few nuggets of gold for the house hunter looking for laughs.