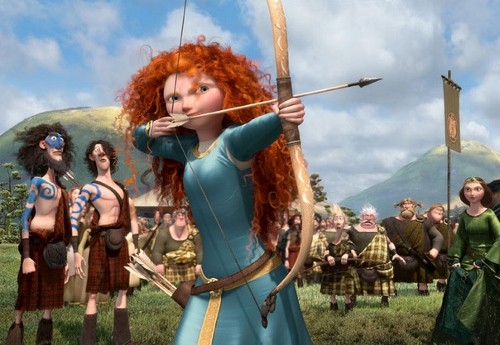 Ready for a little Disney toon action with a bow & arrow wielding feisty female at the helm?  Then check out our review of the new to Blu-ray feature "Brave," out Nov. 13 from Pixar and Walt Disney Home Entertainment.  See if the film hits the mark below!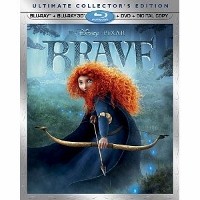 Title: "Brave" (Ultimate Collector's Edition)
Grade: 3 1/2
Cast: Kelly Macdonald, Billy Connolly, Emma Thompson
Director: Mark Andrews, Brenda Chapman, Steve Purcell
Rating: PG /  Runtime: 93 minutes
Release Company: Pixar / Walt Disney Home Entertainment
Website: www.DisneyBluray.com
The Flick: While there is a little drab down time at moments within "Brave," there's also some tasty stuff as well.  First off finally having a female character worthy of today's audience is a welcome change and as voiced by "Boardwalk Empire's" Kelly Macdonald she's a little redhaired force to be reckoned with.  Not to mention that there are great supporting voices (a little Billy Connolly goes a long way!) and insane story twists.  (Mom gets turned into...a bear?!)  Again, the story does have some bland bits and a sometimes askew sense of direction, but the good far outweighs the bad here.  Making a redhead with attitude the lead in this Disney adventure is brave indeed.
Best Feature: There's a ton of great character featurettes on this one, but I must admit I dug the animated shorts 'La Luna' (for those who love the moon!) and 'The Legend of Mordu' (want history with flair – you got it!)
Best Hidden Gem: Again, Billy Connolly steals the show as the voice of Merida's sassy dad.
Worth the Moola: Amidst being a tad lagging on story direction, flair and panache win out and make "Brave" a flick to see.