Blu-ray Review: 'Branded'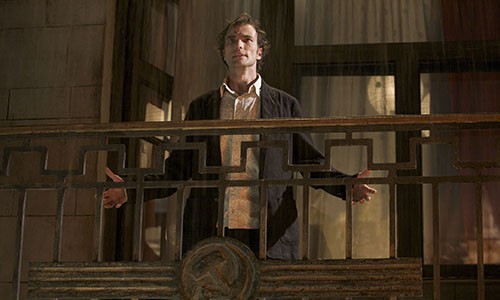 Sci-fi thriller?  A statement on marketing in a competitive digital era?  Or simply an allegory on advertising and its unstoppable power?  We're gonna find out as we dissect the new to Blu-ray thriller "Branded," out now from Lionsgate Home Entertainment.  The truth lies below!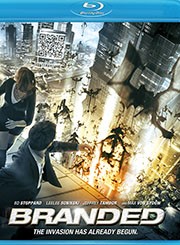 Title: "Branded"
   Grade: 0
   Cast: Ed Stoppard, Leelee Sobieski, Jeffrey Tambor
   Director: Jamie Bradshaw / Alexander Doulerain
   Rating: R
   Runtime: 106 minutes
   Release Company: Lionsgate Home Entertainment
   Website: www.lionsgatebluray.com
The Flick: The saying 'don't judge a book by its cover' is a fair one and in the case of "Branded" it's a warning.  The box art seems to promise an exciting mix the apocalypse times with harrowing sci-fi elements, but the actual flick itself is like a poor man's version of Alex Proyas's "Dark City" with truth in advertising as the preachy theme minus all flair or panache.  It almost seems like "Branded" didn't know what it wanted to be – deep drama, allegory of our product driven times, shocking sci-fi statement - and it feels like it.  It makes the mistake of not only hammering home obsession with products and people, but takes it to almost ludicrous sci-fi levels that don't even fit the flick.  Not to mention the forgettable actors, who all flounder here (even the amazing Max von Sydow!) due to story and dialogue that's utterly laughable.  But in the end the film is simply a hard one to sit through – be it generic or name brand buyer beware.
Best Feature: Even the single feature of a Commentary with duo directors (explains a lot!) sucks ass due to a spastic Jamie Bradshaw and an inarticulate Alexander Doulerain – brand me bored to death.
Best Hidden Gem: Max Von Sydow's role in "Strange Brew" as Brewmeister Smith looks like Othello next to this!
Worth the Moola: Branded with the crappy movie seal of approval – forced attention assembly required.