Blu-ray Review: 'Blue Velvet: 25th Anniversary Edition' Five-Star Lynch Dissection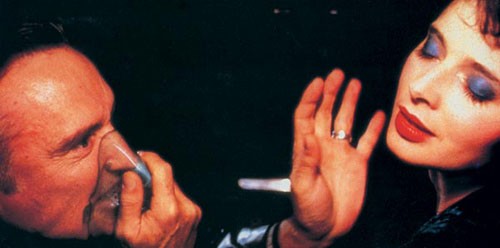 How much stranger can Lynchland get in hi-def? (And what's in store for fans itching for more mystery revealing extras?!)  Check out the 20th Anniversary Edition of the 1986 masterwork that changed cinema forever David Lynch's "Blue Velvet" out on Blu-ray Nov. 8 from 20th Century Fox Home Entertainment.  Let's go for a joyride – get your robe!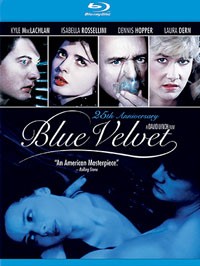 Title: "Blue Velvet: 20th Anniversary Edition"
   Grade: 5
   Cast: Kyle MacLachlan, Isabella Rossellini, Dennis Hopper
   Director: David Lynch
   Rating: R
   Runtime: 120 minutes
   Release Company: 20th Century Fox Home Entertainment
   Website: www.mgm.com  
The Flick: Too compelling to dismiss as shocking and too profound to be seen as simply strange, "Blue Velvet" is a film experience like no other.  Even to describe it to the uninitiated is a conundrum.  Is it an erotic thriller, a dark drama about the dark side of human nature, an unusual detective story, or perhaps all of the above?  But not being clearly defined is what makes "Blue Velvet" so incredibly engrossing and much like its enigma helmsman a total mystery.  With performances that range from sweet (Laura Dern is the epitome of apple pie!) to sadistic (Dennis Hopper really IS Frank Booth!) and even mind-blowing (will anyone forget Dean Stockwell's scene stealing work as suave Ben?!) there is a real sense of something special and extreme going on in the almost surreal world of "Blue Velvet."  Look, anyone who can successful mix the visuals of an all American landscape that includes houses and flowers with a deranged Dennis Hopper sucking down gas before committing atrocious acts and make them both equally beautiful and repugnant deserves his rightful place in cinema history.  David Lynch, and by extension "Blue Velvet," remains even after 25 years as unique, original and captivating as ever.  
Best Feature: First off, Blu-ray and it's wears gives those famed Lynch visuals an additional element of lush allure.  (aka "Blue Velvet" was MADE for this format!)  But the five-star goodies don't stop there.  There's an amazingly thorough eight-part (WOW!) documentary called 'Mysteries of Love' that even though it has current Lynch speak MIA, does talk to EVERYONE else involved (even the late great Hopper!) about everything from the Lynchian attention to detail (he placed dust bunnies under a radiator for ambiance!) to on-set reveals (due to underwear being visible in the shot, Hopper got a full view between Rossellini's legs sans panties!).  And everyone chatting here – MacLachlan, Rossellini, Hopper, Dern – all not only give honest insight into their various twisted characters and disturbing scenes, but paint a candid picture of mystery man Lynch that I would consider the most revealing to date.  But that's still not the best feature for this one – for pure Lynch fans it will most assuredly be the whopping fifty minutes of deleted footage that is as strange, odd and intriguing as the flick itself – the cool road down Lynch lane just got delightfully and dementedly longer.
Best Hidden Gem: Have to stick with the oddity that is Dean Stockwell (his lip-sync of Roy Orbison's 'In Dreams' into the work light is forever engrained in my brain!), who doesn't show up in the doc to talk about his mysterious character – a strangely good move that makes me even more curious!
Worth the Moola: Not only to once again return to the world of "Blue Velvet" in glorious Blu-ray, but to get so many cool bonus items – your five-star Lynch ship has come in.  (Amidst missing a few common sense boat screws!)